[AMA] Tea Recommendations for Different Seasons
Posted by SALINA - TEAS.COM.AU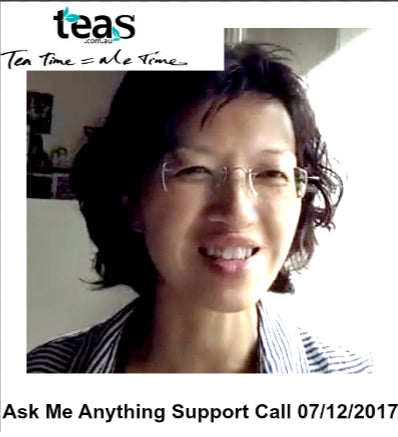 [Replay Ask Me Anything 07 Dec 17] 
What differentiates small business from Big business
Different product offer for different seasons
Creativity
Marketing
Different Tea for Different Seasons
Nowadays, options are everywhere. So as a business owner you need to make sure you have different ways to narrate your product. Set up a story about your brand. 
Let us start with what differentiates a small business from big business:
Something unique to small business that big business does not have is

 

AGILITY, that we can chop and change anytime we want to.
We are NOT a small scale corporate. In another words, we are a large company divided by 100 or 1000 or 10000.
We are strong in personal touches. We are not needing to "script" everything.  
With this clear understanding of the platform we are playing on, we can go and create products with agility and creativity. Let's look at different product offer for different seasons:
Any tea that has flowers and some lighter tasting fruits that gives you that sense of energy reviving feeling. 
Spring Blossom -
is an amazing flowering tea art; unwrapped from orange foil add boiling water to the bouquet tea ball. 
Wonderful fragrance and taste 
accompanied by
 the goodness of tea. A true feast 
to
 your senses.
Full of fun and vigour. Anything with refreshing fruit tastes is great.  
This time of the year your energy level is slowing down.
Any teas with roots in them good for detoxing ourselves after (too many) BBQ and summer parties and eating too much fast food. 
The time of the year where most of us want to curl up and snuggle up. 
More classic black tea and any tea that you can add milk will give you a sense of "fullness" without piling on calories.
Darker version of oolong like
Shui Xian
and
Dan Chong
are great.
Puerh
is also fantastic, particularly for the meat eaters, this is your must have tea to give your digestive system a boost.
Not just different seasons, but also different REASONS:
As business owners, we also need to look for opportunites and give people reasons to buy, such as events like Mother's day and Easter.
Getting your mind switch on to new elements that you can use to build your product story.
I have done a lot of coaching for folks to use creativity in their marketing. Get on a free tea consult call with me and see what we can do to make your tea sing. 
Now this is the LAST AMA call for 2017. Appreciate your feedback - send to
sales@teas.com.au
. Let us know if you want us to continue AMA in the new year?
Cheers to you and looking forward to working with you in 2018!
If you need some help with your tea business, it's crucial you work with someone who has been there, understand your goal and pain. 
As a tea business owner since 2003, I have many shares of pain and gain. If you are ready to create your dream tea business, get your tea biz fundamentals right by taking this essential training. Collection 2019 Sale 70% Off Title for image
AUSTRALIA'S FINEST LOOSE LEAF TEAS
Explore Australia's largest selection of Premium Teas & All-Natural Organic Herbal Blends.