5 Amazing Dessert using This Golden Flower
Posted by SALINA - TEAS.COM.AU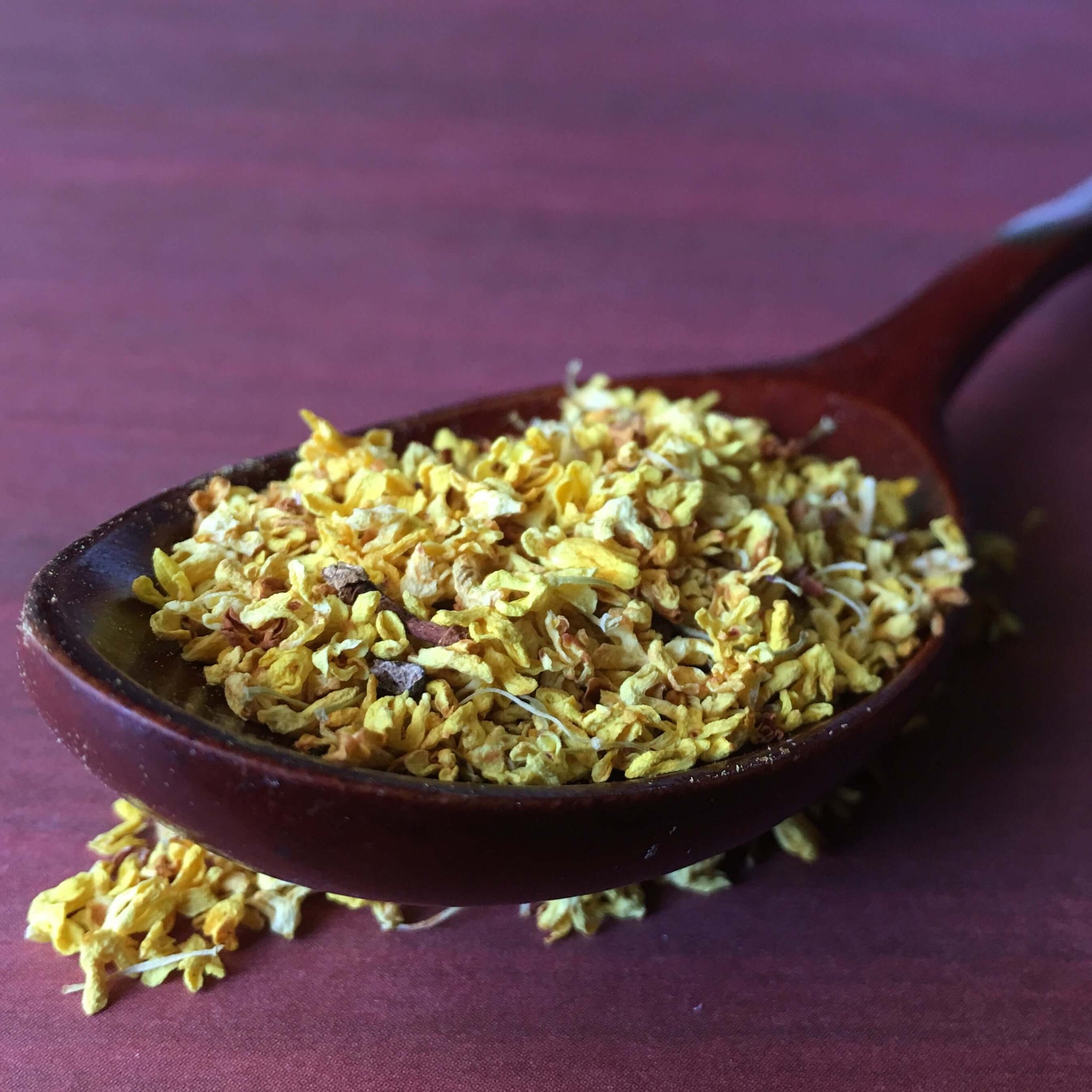 Osmanthus (Kwai Fa 桂花 ) is one of the prettiest and fragrant Chinese edible flowers. The tiny golden Osmanthus flowers have a soft apricot like scent and was once an imperial herb to create desserts for the Chinese royal court,
Osmanthus, in the language of flowers, represents joy and open communication. Its golden petals are like showers of gold flicks from the nature. Its fragrance brings a smile to your face, without being overpowering. 
Osmanthus flowers are similar size to the elderflower but carry a more glorious vibrant yellow colour. Osmanthus has been featured in many desserts, and is great to soothe your throat. 
We have selected 5 amazing desserts using Osmanthus that would bring a splash of gold onto your dining table. 
 Osmanthus Nian Go 
As a child I loved Nian Go. The name Nian Go translates to "grow taller every year" and is popular amongst kids. This is a healthier version of Nian Go, the Chinese New Year must-have sweets. Nian Go is made with glutinous rice flour (no gluten in it) and it is sticky and messy to eat, but it's so worth it. The traditional version uses the brown slab sugar which has a richer taste and is much sweeter to eat. This version is lighter - not so full-on to eat, so you can eat more ;)
 

 Throat Soother

Start the morning with this fragrant potion. Its softness is soothing to the throat and the lemon gives it a light refreshing touch. 

 
 Tong Yuan Dumplings in Osmanthus Soup
The Tong Yuan (Tang Yuan) Dumplings in Osmanthus Soup is a sweeter version of the above Tong Yuan with smaller balls with no filling and a thicker soup (like a thin sauce). It's a delightful dessert great for winter.
 A glistening dessert from the traditional Chinese menu, this classic sweet is great for summer. This jelly is natural, with no flavours or colours. The jelly is made with Agar Agar, so it is vegetarian friendly. Recipe by by Hong Kong Cookery.
 Osmanthus Tong Yuan with Rice Wine Syrup 
 Tong Yuan (Rice balls) is the first dessert I learned to make when I was a child. It is fun and easy to make, even for little hands. In fact, get your children to help. Let them play with the dough and come up with their own little rice ball in whatever shape their imaginative mind takes them. Collection 2019 Sale 70% Off Title for image
AUSTRALIA'S FINEST LOOSE LEAF TEAS
Explore Australia's largest selection of Premium Teas & All-Natural Organic Herbal Blends.