Osmanthus Tong Yuan with Rice Wine Syrup 桂花酒釀湯圓
Posted by SALINA - TEAS.COM.AU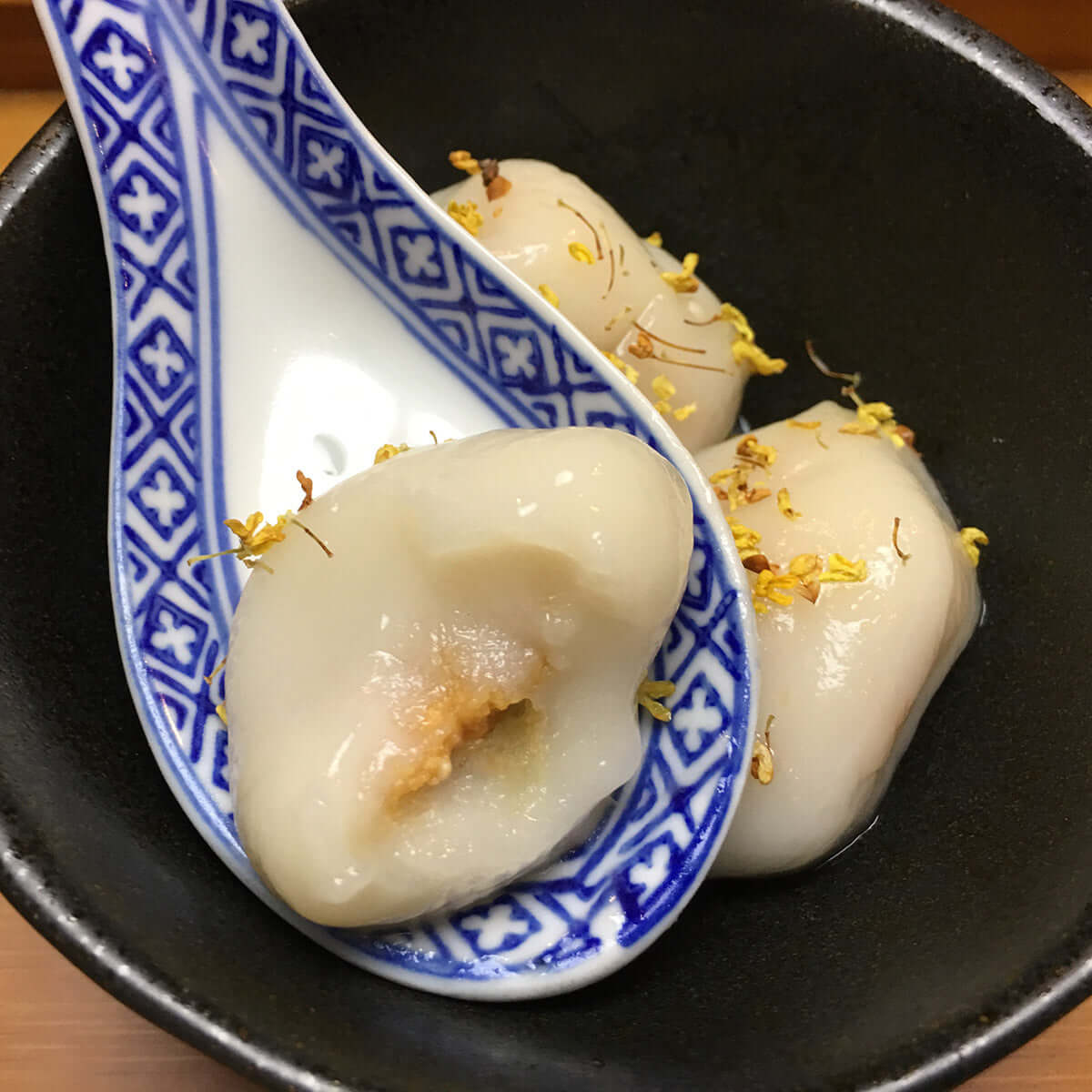 "Tong Yuan" (Soup Balls 湯圓), is not only a great dessert, it is also a fantastic food to make with kids.
This is in fact the first dessert I remember making with my mum.
Mum was rarely home making meals. Just too busy working. So I treasured the times we could make meals together. We talked about my school days as she showed me how to clean and cut vegetables.
She showed me how to stir fry and so on, and I would do everything opposite to the way she did. I was the only leftie in the family.
I stirred the pot the "wrong way", flipped the fish in the pan to the other side to her. Everything was like a mirror image...she would tease me, but deep inside, like every traditional Chinese parent, she wanted me to become right handed. 
The time I made Tong Yuan with her in those cold winter days would be the time I would be freed from this kind of cultural bounds. Just a little lump of moist flour dough in my little hands, I would stretch it, roll in, and try making it into all sort of funny shapes. Now my kids are doing the same - snakes, alphabets, squished ones and so on.
The Tong Yuan I knew then was a simpler version to this. Sugary water with glutinous rice flour balls with sweetened peanut butter.
This recipe is a combination of my beloved Tong Yuan and the other Tong Yuan variation that used the Sweetened Fermented Rice.
I only came to know this magic ingredient after I left Hong Kong. Of all places, I discovered it in a little Shanghainese eatery in Newmarket when I was living in Auckland. It's a dessert with Tong Yuan that are much smaller and has no filling. The Tong Yuan was swimming in a thin syrupy soup flavoured with the Sweetened Fermented Rice. Once I tried this, I was hooked. 
The odd thing is I have never been a wine drinker. Even wine cooler would put me to sleep. But this Sweetened Fermented Rice is different. It adds an added adult touch to the dessert, yet the alcohol is cooked through from the boiling. What's left is a delicious flavour from the fermented rice, coupled with osmanthus flavour and fragrance. 
It's kids friendly, just if you are wondering.
Serves 4:
Dough:
200g Glutinous rice flour
200ml cold water
Filling:
3 tbsp Roasted sesame
3 tbsp Raw sugar
2 tbsp peanut butter
Sweet Soup:
7 cups cold water
3 tbsp raw sugar
3 tbsp fermented rice in wine syrup*
1 tbsp Osmanthus
Directions
Mix the water and flour to make the dough. Mix till smooth – the dough should be moist but can come off your fingers quite easily.
Mix all ingredients for the filling in small bowl.
In a medium size saucepan, pour in water. Put on high heat while making the rice balls.
Shape dough into little balls about 3-4cm diameter. Press a hole in the middle of the ball.
Flatten a little and fill it with a little teaspoonful of the filling.
Seal the dough and roll into a ball with the palm of your hands gently and quickly.
Repeat till all ingredients are finished. When the water is boiling, drop little rice balls into the saucepan one by one, stir water regularly to make sure the rice balls don't sink and stick to the bottom of the saucepan.
When the rice balls are cooked, they will float to the top of the water. Once the balls are cooked, turn off heat but do not remove from stove.
Add Osmanthus, sugar from the Sweet Soup and fermented rice. Lightly stir and break up the rice lumps. Place the lid on for 5 minutes to let the Osmanthus flavour and fragrance come through.
Scoop out the balls and sweet tea soup into 4 bowls.
Enjoy while it's hot.
Tong Yuan is also eaten as part of the Chinese celebration, symbolising reunion. 
Tong Yuan is traditionally filled with red bean paste, black sesame seed paste or chopped sweetened peanuts. All of which are pretty loaded, and not the sort of stuff you can whip up in a moment's notice. 
My mum's peanut butter with sugar filling, on the other hand, is easy to make anytime. Kids are always so helpful mixing the sugar with the PB, and for some funny reason, always make too much filling so that they HAVE to eat the remaining filling on its own! (if mum is not looking, they would have added more sugar to the mix)
Tong Yuan brings a warm sweetness to the mouth. Each time I make it and eat it with my kids, I know this would be one of the family recipes passed onto their kids and their grandkids. Collection 2019 Sale 70% Off Title for image
AUSTRALIA'S FINEST LOOSE LEAF TEAS
Explore Australia's largest selection of Premium Teas & All-Natural Organic Herbal Blends.