Oolong Lemon Pudding Cake
Posted by SALINA - TEAS.COM.AU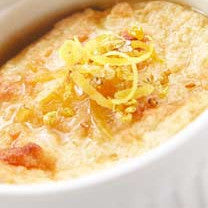 Super lemony, this light cake has a layer of golden baked cake on the top and devilish lemon pudding at the bottom with the goodness of oolong.
Makes about 8 small ramekins
¾ cup white sugar
1 pinch salt
3 tbsp cooking margarine or unsalted butter, melted
¼ cup sifted all-purpose flour
2 tsp grated lemon zest
1/3 cup lemon juice
1 ½ cups milk
1 heap tbsp light oolong, such as Tie Guan Yin Light
3 egg yolks
3 egg whites
Directions
Preheat oven to 350 degrees F (175 degrees C). Spray ramekins with canola oil spray.
In a saucepan, pour in milk and heat. Once it's started boiling, put in oolong leaves, turn to low heat, cover and simmer for 5 minutes (be careful of spilling). Turn off the heat and keep it cover to infuse for another 5-10 minutes.
Strain the milk tea through a fine sieve and leave it to cool covered (to prevent a fine film forming on the top of the milk).
In a large bowl, combine sugar, salt and melted margarine. Beat in the flour. Stir in the lemon zest and lemon juice.
Add egg yolk to the milk-tea mixture one at a time and whisk to blend completely. Repeat till all egg yolks are added.
Add milk-tea-yolk mixture to the lemon mixture.
In a large metal mixing bowl, beat egg whites until stiff peaks form. Fold 1/3 of the whites into the batter, then quickly fold in remaining whites (under fold it if you like little clumps of white meringue on top of your cake). Pour batter into oiled remekins.
Set remekins in a water bath. Bake in the preheated oven for 40 minutes, or until top is lightly browned. Serve warm or cold.
This is a beautiful dessert, but also a great brunch topped with a little bit of mixed fruit or muesli.
Buy the ingredients at our website Teas.com.au Collection 2019 Sale 70% Off Title for image
AUSTRALIA'S FINEST LOOSE LEAF TEAS
Explore Australia's largest selection of Premium Teas & All-Natural Organic Herbal Blends.