Sweet Rice Balls with Rose Oolong tea
Posted by SALINA - TEAS.COM.AU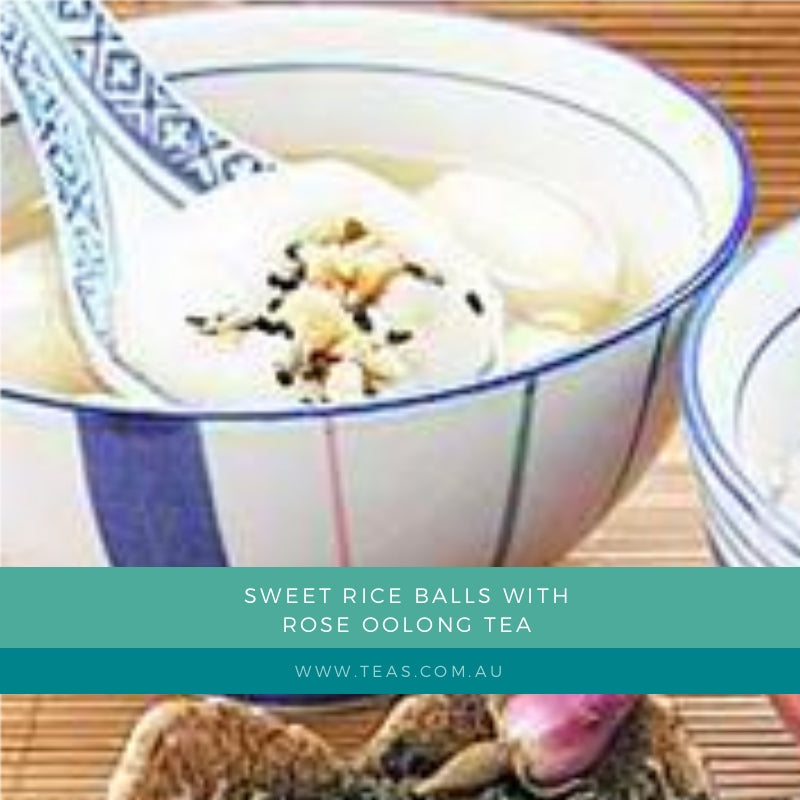 This well known Chinese dessert, "Tong Yuan" (Soup Balls), is often served in Chinese new year to symbolize union and enjoyed with the entire family.
I have many fond memories of making this with mum when I was little. I love making them into all sort of funny shapes besides the standard ball shape.
While I love Tong Yuan, I do find this doughy dessert can be a bit heavy.  Hence this oolong addition makes it so much easier to eat more!
This variation with the rose oolong tea makes it less filling and more delicious with the fragrance of the floral rose tea.
Oolong is known for weight management (drink after meal to reduce the build-up of fatty acids) and relieving eczema, most oolong tastes the best in its second and third infusions when it is slightly cooled to room temperature.
Serves 4:
Dough:
250g Glutinous rice flour
180ml cold water
Filling:
20g Roasted peanuts,
chopped finely
1 tbsp Roasted sesame seeds (white or black)
2 tbsp sugar brown sugar preferred
1 tbsp peanut or vegetable oil
Sweet soup: 7 cups cold water
1 heap tbsp Tie Guan Yin or Rose Oolong
1 tbsp sugar 
Directions
Mix the water and flour to make the dough. Mix till smooth – the dough should be moist but can come off your fingers quite easily.
Mix all ingredients for the filling.
In a medium size saucepan, pour in water and sugar. Put on high heat while making the rice balls.
Shape dough into little balls about 3-4cm diameter. Press a hole in the middle of the ball and fill it with a little teaspoonful of the filling.
Seal the dough and roll into a ball with the palm of your hands gently and quickly.
Repeat till all ingredients are finished. When the water is boiling, drop little rice balls into the saucepan one by one, stir water regularly to make sure the rice balls don't sink and stick to the bottom of the saucepan.
When the rice balls are cooked, they will float to the top of the water. Once the balls are cooked, turn off heat but do not remove from stove.
Place the rose oolong tea leaves in the saucepan. Lightly stir and cover for at least 5 minutes to infuse.
Place the balls and sweet tea soup into 4 bowls.Enjoy when hot.
Tong Yuan is also eaten as part of the Chinese wedding ceremony - often the mother will feed the couple to be married, as a symbol from the elders passing on a blessing of divine union between man and woman. Collection 2019 Sale 70% Off Title for image
AUSTRALIA'S FINEST LOOSE LEAF TEAS
Explore Australia's largest selection of Premium Teas & All-Natural Organic Herbal Blends.