Rooibos Almond Milk Latte
Posted by SALINA - TEAS.COM.AU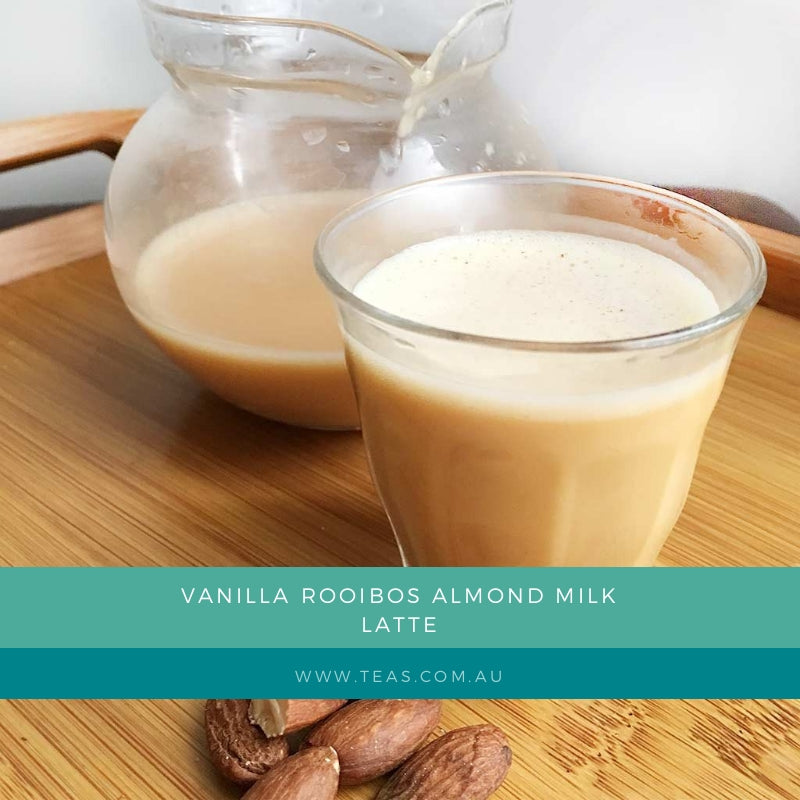 Have you been thinking about making nut milk? I keep hearing people talking about how good it is.
So finally, after eye-balling the Pinterest nut milk recipes for ages, I decided to try making nut milk. It was such a pleasant surprise how easy to make it!
Nut milk is really easy to make if you have a whizzy blender like the #Thermocook. We used pistachio and almond, and it tastes great on its own, in Vanilla 

Rooibos

or

Matcha

.
Today we made it with Vanilla Rooibos. You can use plain rooibos or matcha or just about any tea of your choice! All of us love the Vanilla Rooibos version including the kids loved it.
So we may start our nutty journey making some nut milk with some nutty tunes playing in the background - like this one in the video. LOL
A great way to get the kids to "eat" more nuts ;)
This is a fantastic drink hot or chilled. Brew a strong cup of your favourite tea, and mix it with this nut milk to create your favourite tea latte!
Makes 1 Litre
Nut milk -
1 cup pistachio
1 cup almond (with or without skin on)
2 cup boiling water
1 L water 
1 tbsp Honey
1 tsp Natural Vanilla Essence
a clean thin kitchen cloth / towel
Latte - 
2 tbsp Vanilla Rooibos
1 cup boiling water
Honey (optional)
iced if making it iced
Directions
Pour 1 cup of boiling water over almond and pistachios, drain after a quick stir.
Pour in the other cup of boiling water over the nuts. Soak for 6 hours. 
Place soaked nuts and liquid in Thermocook blender with 1L water. 
Set to Smoothie setting, go for 30 seconds. 
Add in vanilla and honey and blend for another 30 seconds in Smoothie setting.
Place the kitchen cloth over a mixing bowl. Make sure all edges and corners are wrapped around the bowl.
Pour contents of the Thermocook blender through the kitchen cloth.
Transfer the strained milk into a jug.
Ready to enjoy your nut milk - hot or iced.
Make Vanilla Rooibos Latte
Place Vanilla Rooibos in a teapot with 1 cup of boiling water. Steep for 5 minutes to get a strong brew.
Place about a half cup of pistachio almond milk in a measuring cup, add the strained rooibos. 
If you would like a little bit of a froth, get your egg whisk and place the handle between your palms, and "rotate" it to whisk the nut milk latte till frothy. 
This is such a great treat for anyone, but particularly for ladies with sugar craving and menstrual cramps.
NOTES:
Store in refrigerator for several days. (our 1L creation is gone within 3 hours!)
You can adjust water amount - more water if you like your almond milk more watery.
Hubby enjoyed it with a little bit the "nut granola" (see recipe) we made with the nut milk leftover pulp. Waste not, want not? ;) Collection 2019 Sale 70% Off Title for image
AUSTRALIA'S FINEST LOOSE LEAF TEAS
Explore Australia's largest selection of Premium Teas & All-Natural Organic Herbal Blends.