Spiced Tea Gingerbread Biscuits
Posted by SALINA - TEAS.COM.AU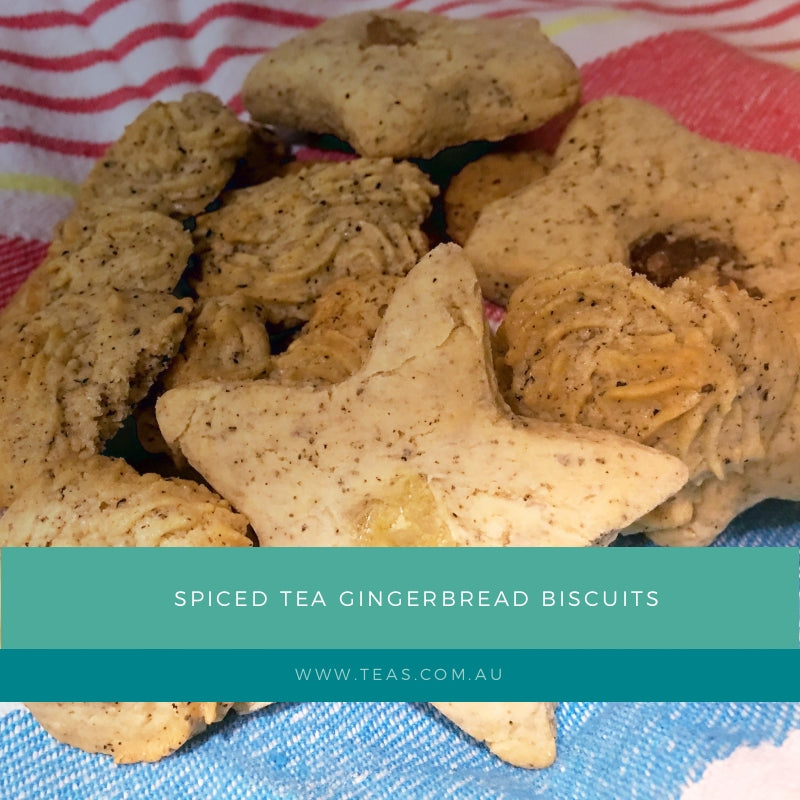 While my kids are not big on spices on their meals, Gingerbread biscuits are certainly something they ask for often.
I have used the #Thermocook to make them this time, trying out a new recipe. Certainly it doesn't have the dark colour I thought I would have (but then I didn't use brown sugar!), but the taste is delightful.
Mixing is done in half time, thanks to my new toy #Thermocook ;)
Prep time 15min, cook time 10 min per tray of biscuits x 2 trays.
Ingredients
100g butter
1 cup raw sugar
1 egg
60ml sour cream
3 cups wholemeal self raising flour
1 tablespoon Spicy Chai (better with more spices) or Organic Black Chai (photo) black tea
Sprinkle of nutmeg and ginger powder
Directions
In #Thermocook, place Spicy Chai and sugar, hit it with 20 secs on chop setting.
Add butter, sour cream and egg. Give it 5 seconds whiz on smoothie setting.
Add flour, nutmeg and ginger powder hit it with 10 seconds on chop setting, and scrap down content into the mixing cup.
Then give it another 20 seconds on knead setting to completely blend the dough together.
Turn the dough out onto a floured surface 
Roll the dough to 3-5mm thickness. Cut into desired shapes. (It is pipe-able because we cut the spices really fine in step 1)
Place cookies at least 2-3cm apart on baking sheet. Bake 8-10 minutes at 150ºC fan oven.
Cookies should be lightly browned at the edges. Remove from cookie sheets to wire racks to cool.
Decorate with icing etc if desired. Collection 2019 Sale 70% Off Title for image
AUSTRALIA'S FINEST LOOSE LEAF TEAS
Explore Australia's largest selection of Premium Teas & All-Natural Organic Herbal Blends.