Matcha Handmade Noodles with Light Miso Sauce
Posted by SALINA - TEAS.COM.AU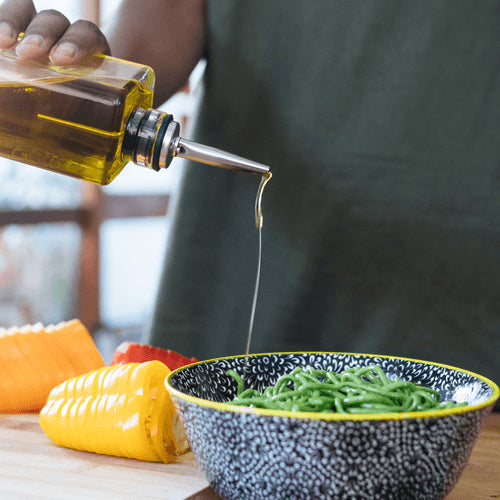 I am pleasantly surprised by how easy it is to make Matcha pasta / noodles using my favourite kitchen gadget - the breadmaker!
So onto Pinterest and found this simple Korean noodle recipe. The photo looks great, reminding me of the Korean handmade noodles I have in a local restaurant. Very tasty :)
I have made it twice. First time I rolled out the dough much thinner and used them for soup noodle. It was lovely and the family requested a second round the next day.
My tea itch needs to be scratched and here comes...Matcha handmade noodle.
Ingredients:
Udon
3 cups all-purpose flour
3/4 teaspoon salt
1 tablespoon vegetable or canola oil
1 cup water
3 tablespoon Matcha
Light Miso Sauce
2 tbsp miso paste
1 tbsp corn starch
4 tbsp water
Add sliced carrot, corn and chopped spring onions or other vegetables or meat of your choice.
Direction:
Combine all ingredients in a breadmaker in dough setting or by hand till well mixed. 
Prepare a big pot of water to cook the noodles.
Roll out the dough on a floured surface. Flour the rolling pin and roll the dough to about 1cm thick. 
Cut into 1cm strips. 
Place the noodles gently in water and keep them moving in the boiling water to make sure they don't stick to the bottom of the pot.
When the noodles float to the top of the water, take them out in a sieve.
Strain and run cold water through them.
Oil a pan and turn on medium heat.
Add noodles and vegetables. Stir gently.
Mix 3 ingredients for Light Miso Sauce in a small bowl. Then pour it onto the noodle and stir to mix. The sauce will look glazy when it is cooked (only need a minute. Keep stirring.)
READY TO SERVE :) Collection 2019 Sale 70% Off Title for image
AUSTRALIA'S FINEST LOOSE LEAF TEAS
Explore Australia's largest selection of Premium Teas & All-Natural Organic Herbal Blends.