Orange Olive Oil Cake + Mint Icing
Posted by SALINA - TEAS.COM.AU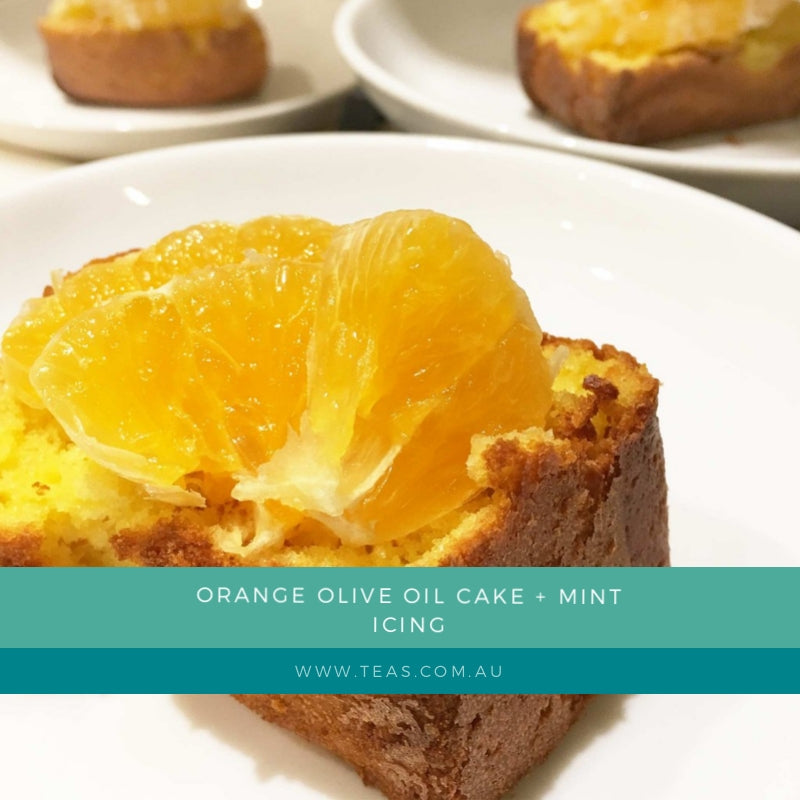 My new found love is this zesty rich orange cake. It uses olive oil to create a soft cake with a slight crunchy outside!
Everyone at home comes to the kitchen when I bake orange cake. The smell is just sooo good!
Here is my adaptation using a #Thermocook blender, which makes it totally easy and quick to make.
In fact, after I made this once with my 9 year old daughter, second time I can pretty much leave her to "dump" everything in the Thermomix to make the cake! All I need to do then is just put in and take out the cake from the oven! Easy peasy!
Ingredients
skin / zest from 2 oranges
2 oranges, peeled, remove seeds
1 3/4 cups self raising flour
3 eggs
3/4 cup sugar
3/4 cups mild olive oil or rice bran oil
for icing
1 tablespoon peppermint infusion
2 tablespoon icing sugar
fresh orange pieces for decoration (as shown in photo, optional)
Instructions
Preheat oven to 350 ºF or 160 ºC fan oven.
Use a peeler to peel just the orange skin into the Thermomix. No white part. Just skin.
Peel the oranges, separate into wedges. Remove most of membranes. Remove seeds.
Place oranges into Thermomix with skin. Turn #Thermomix on to Smoothie setting for 30 seconds.
Put in all other cake ingredients and start #Thermomix on Smoothie setting for 30 seconds. 
Pour into 2 pound cake silicon molds.
Bake for 30-40 minutes or until the toothpick comes out clean after testing the cake.
Allow to cool for 5-10 minutes in pan, then remove cake from pan.
Mix mint infusion with icing sugar, drizzle onto cake. Ready to indulge.
@thermocook Collection 2019 Sale 70% Off Title for image
AUSTRALIA'S FINEST LOOSE LEAF TEAS
Explore Australia's largest selection of Premium Teas & All-Natural Organic Herbal Blends.