Rose Panna Cotta
Posted by PETER - TEAS.COM.AU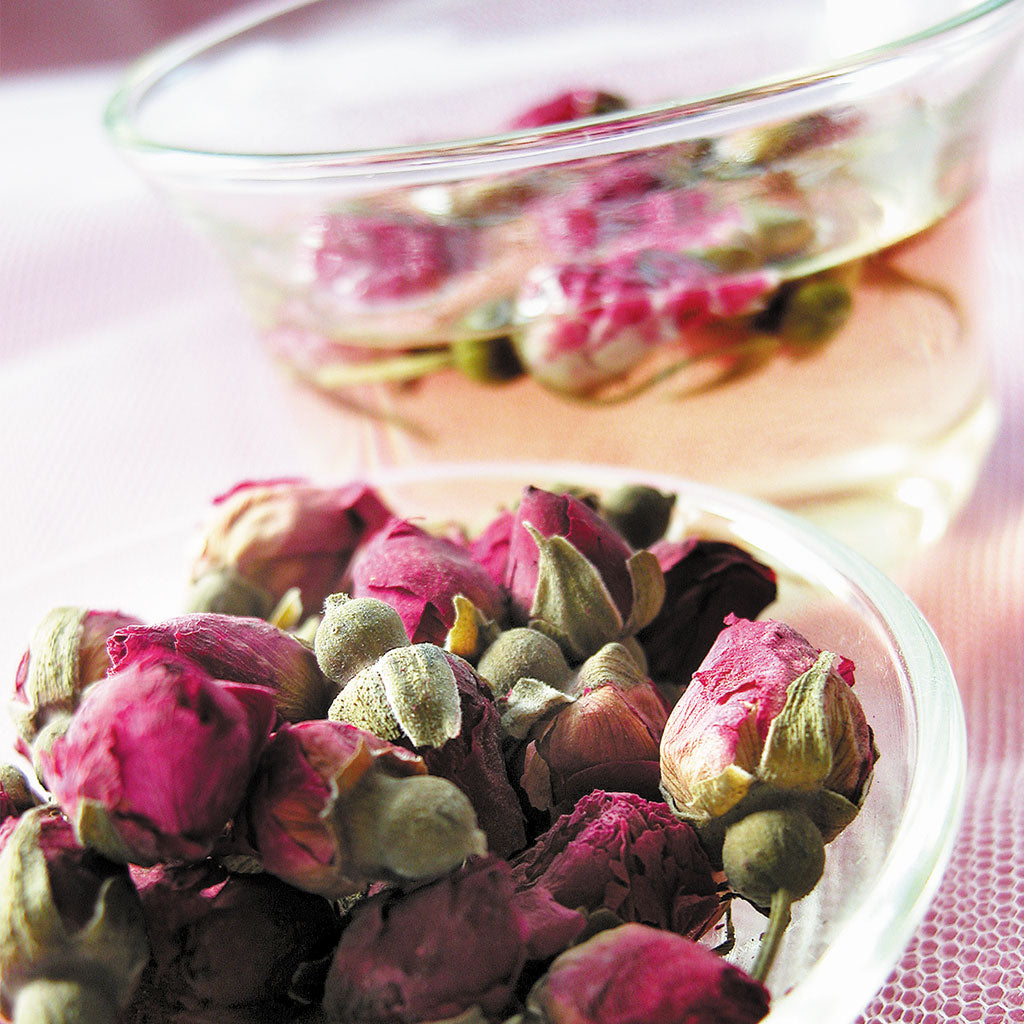 This is a beautiful variation to a plain Panna Cotta using dried Rose Buds to bring out a light fragrance. Great afternoon tea delight.
Tea used in this recipe: dried rose buds
Ingredients
For Rose Buds:
20g dried rose buds
280ml milk (full cream preferred)
100ml whipping cream
45g sugar
6-8g gelatine powder
For Rose Syrup
1 1/2 cup boiling water
20g dried rose buds
2 tablespoon light flavour honey
Directions
For Rose Syrup
Add dried rose to boiling water in a small saucepan and 

cover with 

the lid

for 10 minutes

until

flavourful. Take out the roses 

and

squeeze

out any solution

back to the brew.
Stir in honey. Turn on the stove to medium heat.
Leave the liquid to bubble for 10 minutes or until thickened to thin syrup consistency.
Turn off heat. Leave it to cool.
For Panna Cotta
Heat milk and remove from heat. Add dried rose and cover with the lid for 10 minutes until flavourful. Take out the roses and squeeze out any solution inside back to the milk. Keep this brew rose aside.

Heat milk again in low heat.

Mix sugar and gelatine powder in a small bowl. Add this mixture into the hot milk slowly. Stir lightly until it melts.

Put cream and petals into the milk and mix well. Pour the milk mixture into a container and refrigerate until firm in texture.

Place the container on top of hot water for a while. Put a plate on top and upside down the plate and container together to get the rose buds on the plate.

Serve with rose syrup and decorate with some fresh/dried rose petals/buds.
Tips:
Soak rose buds in hot milk to bring out the flavour. Don't boil them as this will make the milk mixture bitter.
Gelatine powder can easily form little lumps once mix with water. It is easier to dissolve without lumps if it is mixed with some sugar first. Collection 2019 Sale 70% Off Title for image
AUSTRALIA'S FINEST LOOSE LEAF TEAS
Explore Australia's largest selection of Premium Teas & All-Natural Organic Herbal Blends.