Okonomiyaki with Noodle and Matcha Fried Onion
Posted by SALINA - TEAS.COM.AU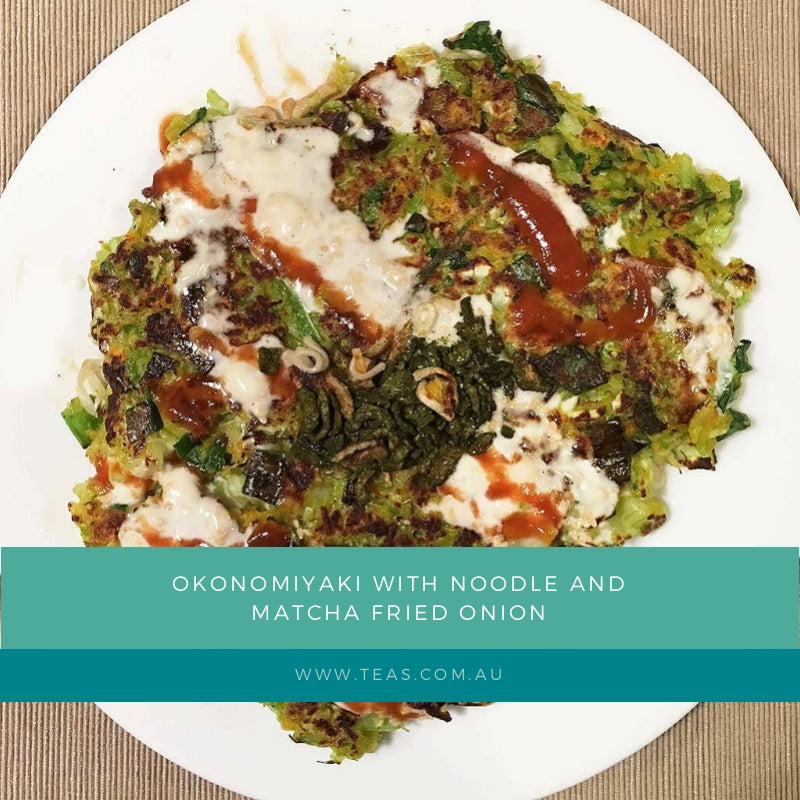 Okonomiyaki is like a '"Japanese pizza", made with flour, eggs, shredded cabbage, meat and topped with a variety of condiments.
It is a specialty from Osaka and you can make it with some dinner leftover in the pancake.
It is a tasty treat for lunch or dinner. Kids would love their well-shredded cabbage in this pancake. using the Thermocook.
Though it looks like a lot of steps and ingredients, by using the Thermocook, it is actually a very quick dish. Think of making savoury cabbage pancake-ala-frittata. Go free style with your sauces and filling. 

The Matcha fried onion is an awesome addition we created. A very tasty treat to add the extra crunch to our version of Okonomiyaki!
Serves 2-4
Ingredients:
Part A
300g cabbage, break into palm size pieces
1 carrot, cut into 5cm chunks
1 small onion, cut into 2 halves
Part B
100 grams plain flour
1 egg
160g water
1 tablespoon onion powder
1 tablespoon garlic powder
Part C
1 cake of instant noodles
2 spring onions, cut fine
Sauces + Condiments
Okonomiyaki sauce: Worchester sauce or Chu Hou sauce + BBQ sauce or liquid smoke + ketchup + water
Mayonaise + Roasted sesame seeds
Dried Bonito flakes or roasted pork
Matcha + Fried Onion (really nice - adding some crunch)
Direction:
Place cabbage in Thermocook*, chop for 30 seconds or until grated about 2cm pieces. Take out and place in a large mixing bowl.
Place carrot chunks and onion in Thermocook, chop for 30 seconds or until similar size to cabbage. Take out and add to cabbage in mixing bowl.
Cook the instant noodle in a saucepan with boiling water till slightly undercooked. Strained and set aside.
Place the rest of part A ingredients into Thermocook, set to Smoothie setting for 20 seconds or until well mixed. 
Pour Part B mixture into mixing bowl with chopped veggies, add spring onion and mix lightly. 
Place a large flat frying pan on medium heat. Place about 1 tablespoon oil on the pan.
Scoop about 1 ladle of pancake mixture in the middle of the pan, flatten slightly with your hand or a spatula. 
Add a handful of cooked noodles all over the pancake. 
Add a little more pancake mixture on top of the noodles, to help it to stick to the bottom part of the pancake. 
When the side of the pancake looks cooked, gently but in one smooth quick motion, flip the pancake around. Cook the other side until done
Slide the pancake onto a flat plate, drizzle your sauces and drop some of the condiments on top. Make sure you add the Matcha fried onions. They are super tasty :) Collection 2019 Sale 70% Off Title for image
AUSTRALIA'S FINEST LOOSE LEAF TEAS
Explore Australia's largest selection of Premium Teas & All-Natural Organic Herbal Blends.