Hot Cross Ice Cream
Posted by SALINA - TEAS.COM.AU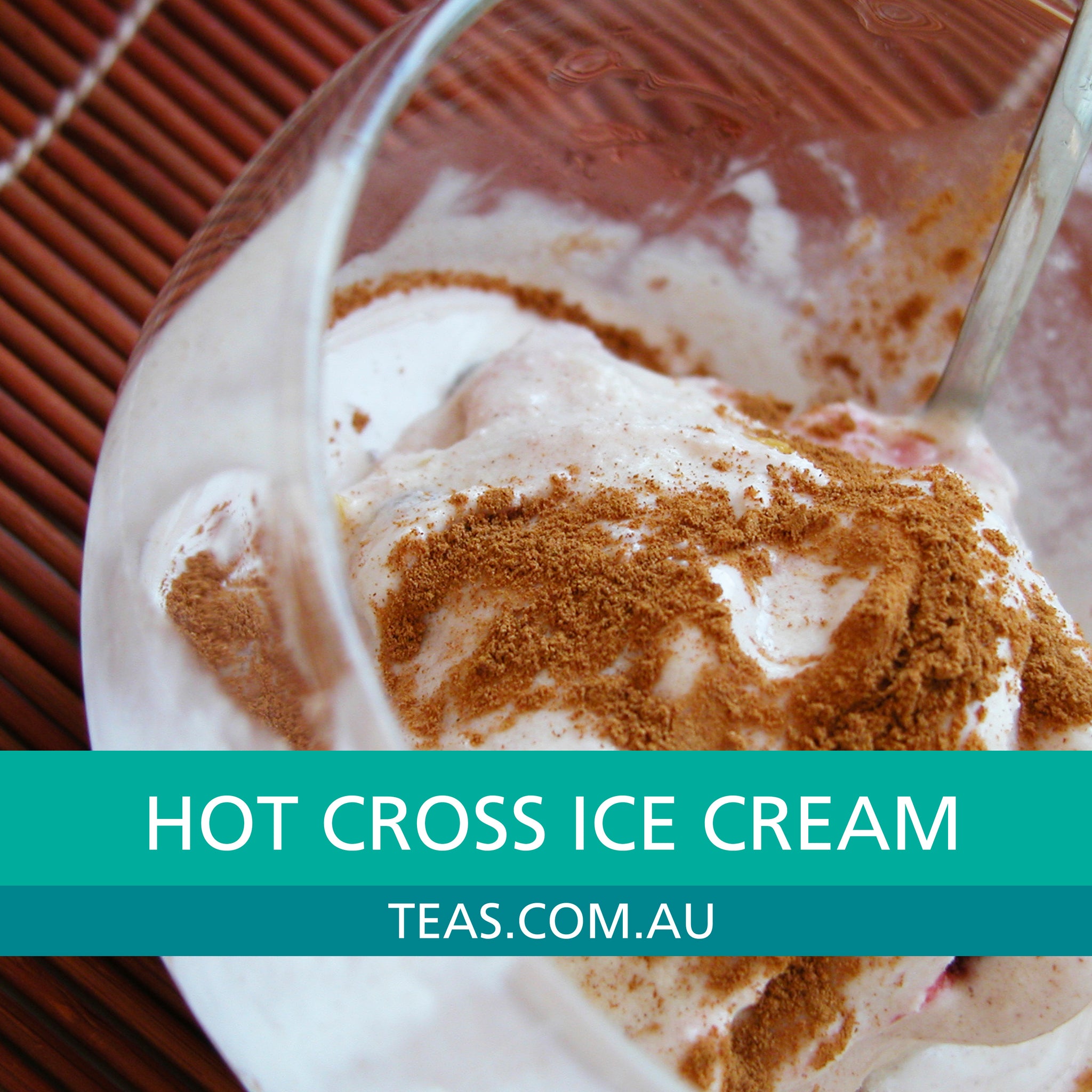 This Hot Cross Ice Cream is perfect for Good Friday with the sweet vanilla-spice mix to remind you of those yummy Hot Cross Buns. It is easy to make and so delicious !
Bunnies are out and the Hot Cross Buns season is here again!  Why not try something a little different?
Make 2 scoops of ice cream
2 scoops of vanilla ice cream
3 tsp cinnamon
1 tsp raisin
1 tsp orange peel
1 piece of dried apricot, cut into long strips
60ml boiling water
2 tbsp orange juice
2 tbsp Spiced Chai
3 tsp of apricot jam or marmalade
Directions
Place the Spiced Chai in the boiling water to make the tea.  Let it infuse for at least 10 minutes so the brew is very strong.
Drain the Spiced Chai infusion and pour it into a small pan.
Add jam and stir to mix and let it boil for 10 minutes.
Turn off heat.  Add orange juice.  Freeze this infusion.
Meanwhile, add ice cream and the rest of the ingredients except the apricot into a mixing bowl, stir well.
Freeze the ice cream mixture for at least overnight to let the flavours infuse.
Take both the frozen infusion and frozen ice cream from the fridge.  Break the icy Spiced Chai infusion into large chunks and mix or fold gently into the ice cream (so there are strands of Spiced Chai visible in the ice cream).
To serve, place a scoop of the ice cream in a small bowl and make a cross with two strips of apricot. Collection 2019 Sale 70% Off Title for image
AUSTRALIA'S FINEST LOOSE LEAF TEAS
Explore Australia's largest selection of Premium Teas & All-Natural Organic Herbal Blends.