Amaretto Ice cream with Matcha orange honey
Posted by SALINA - TEAS.COM.AU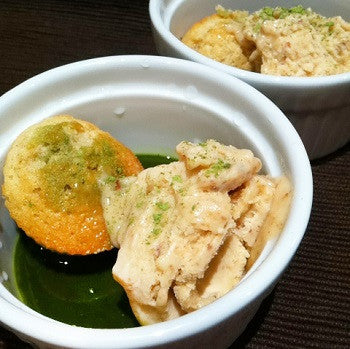 A custard based delicious ice cream made with Amaretto biscuits, paired with the refreshing orange honey with Matcha green tea, this dessert is a great treat after dinner.
Serves 4:
250ml milk
80g sugar
50g Amaretto biscuit
3 egg yolks
1/2 teaspoon vanilla extract
2 tablespoon cornstarch
2 tablespoon milk
3 tablespoon honey
1/2 cup orange juice
2 tablespoon water
1/2 tablespoon Matcha green tea
Break Amaretto biscuit into small pieces.
Directions
In a saucepan on medium heat, add 250ml milk, yolk and sugar, stir till sugar is dissolved. Then add Amaretto biscuit and vanilla extract. Mix the cornstarch and 2 tablespoon milk to create a thick paste. While keep stirring the saucepan, add cornstarch in slowly to ensure no lumps are formed. Keep stirring till with a spoon until the mixture is thick enough to coat the back of the spoon.
Remove from heat. Stir a little more, then put a cloth on top of the saucepan, then the lid, then place into the freezer to chill for 15 minutes.
Then put the chilled mixture into the ice cream to finish, say about 15 minutes.
To prepare the honey "sauce", place water, honey and orange juice in another saucepan, on a low heat, stir then mixed. Remove from heat to cool for 5 minutes.
Then in a small bowl or mug, place matcha, then 1/3 of the honey mixture, mix till matcha is dissolved, then add the remaining honey mixture. Stir to mix.
To assemble the dessert, simply put 1-2 tablespoon of matcha honey on a shallow dish or a bowl, then place a scoop of the Amaretto ice cream on top. Ready to enjoy!
This dessert is quite sweet, so we suggest enjoying it with a cup of light tea such as White Tea cut through the sugar. Collection 2019 Sale 70% Off Title for image
AUSTRALIA'S FINEST LOOSE LEAF TEAS
Explore Australia's largest selection of Premium Teas & All-Natural Organic Herbal Blends.