Choc Peanut Butter Brownie with Matcha grass
Posted by SALINA - TEAS.COM.AU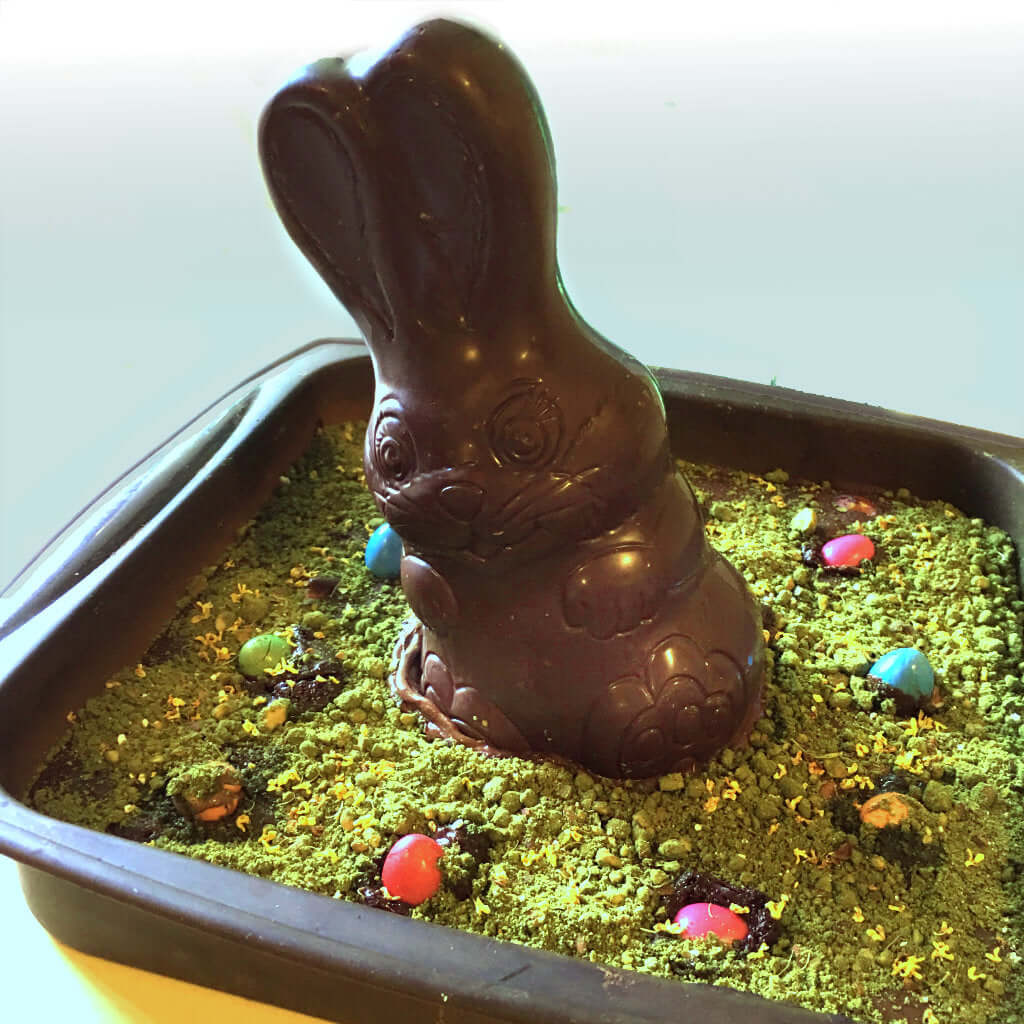 Easter time is chocolate time! It is the time we go "loose" a bit on our healthy eating in the family. We have dressed this brownie cake up with an Easter chocolate rabbit and Matcha grass!
Chocolate-overload! 
Prep Time: 10 min
Cook Time: 20 min
Ready in: 30 min
Yield: 16 brownies
Ingredients
Brownie
250g Greek yoghurt*
1/4 cup milk
2 egg
80g rolled or traditional oats
60g Dutch-process cocoa powder
2 tablespoons raw sugar
80g honey
1 1/2 teaspoons self-rising flour
100g smooth or crunchy peanut butter*
60g semi-sweet chocolate chips / 12 small chocolate Easter eggs*
handful of roasted peanuts*
Matcha Grass
2 tbsp Matcha
2 tbsp Peanut Roasted, ground roughly
1 tbsp Icing Sugar
A chocolate bunny optional
Directions
Preheat oven 160-170ºC on fan heat.
Put all brownie ingredients except chocolate eggs and roasted peanuts in a high speed blender like #Thermocook. Blend till smooth (about 30 seconds). 
Pour mixture into a baking tray. (If it is a little runny, as an extra tablespoon oats in the batter.)
Put the HALF chocolate eggs and ALL roasted peanuts onto batter evenly. Push them down a little into the batter. 
Baked for 20 minutes or until the cake just cooked (tiny bit uncooked ok).
Prepare Matcha Grass: Blend all Matcha grass ingredients together. Set aside. 
When the cake is baked finished, bring out the cake to cool for a minute.
Take the remaining Easter eggs and push them into where the melted chocolate eggs are. This way you get nice looking unmelted eggs embedded in the cake. 
(Optional) Place big chocolate bunny in the middle of the cake.
Sprinkle Matcha grass on the cake.
Ready to go chocolate-crazy!
The kids loved the Choco Peanut Butter Fudge Cake. 
*Buy milk and nuts to make this Choco Peanut Butter Fudge Cake from Harris Farm, our friendly grocery partner online. (aff link) Collection 2019 Sale 70% Off Title for image
AUSTRALIA'S FINEST LOOSE LEAF TEAS
Explore Australia's largest selection of Premium Teas & All-Natural Organic Herbal Blends.