Spicy Chai Apple n Mandarin Crumble
Posted by SALINA - TEAS.COM.AU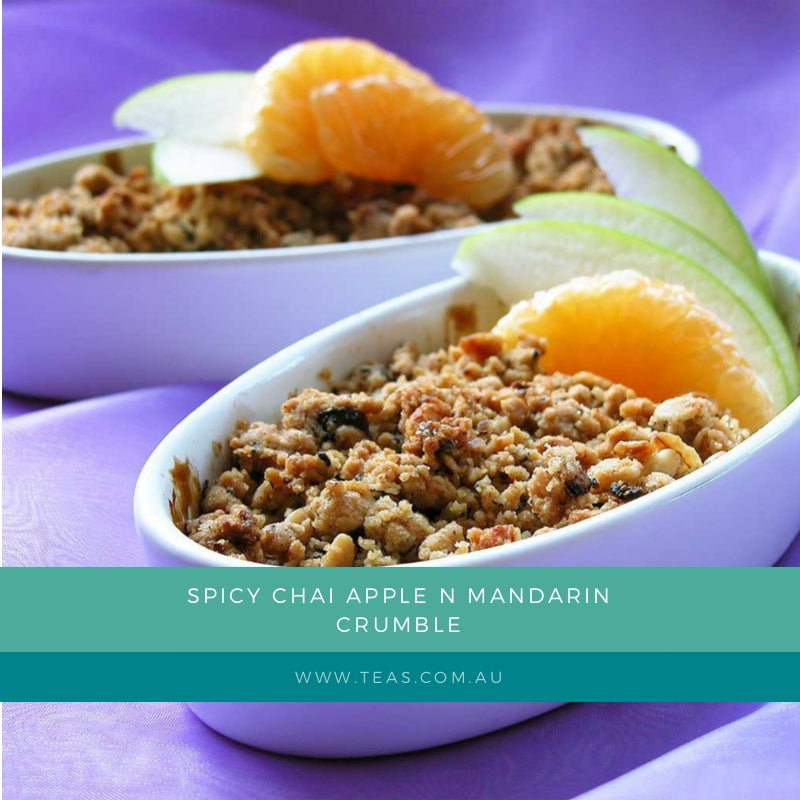 Apple Crumble needs not to be heavy and doughy. Let's enjoy a crunchy top made with muesli and some hot spicy apples in this light dessert!
Makes 2

Filling

1 medium size green apple
1 to 2 Mandarins
1/2 tbsp Spicy Chai, ground to as fine as you can
1/2 tbsp brown sugar

Crumble

1/2 tbsp Spicy Chai, ground to as fine as you can
2 tbsp brown sugar
2 tbsp plain flour
25g butter
4 tbsp muesli

Direction
To make filling, peel, core and slice apples.
Directions
Lay the apples down into 2 greased single serving baking dishes.
Remove outer skin and the inner white skin from mandarin, laying the mandarin flesh on top of the apple slices.
Mix together the brown sugar and chai. Sprinkle mixture evenly over fruit filling.
To make topping, in a medium size bowl, mix the sugar, chai and flour together.
Melt the butter and pour into the dry mix. Pour butter into mixture and rub the dough between fingers to get a crumbly texture.
Add in muesli and lightly mix together.
Place crumble lightly over the fruit filling and bake in a pre-heated oven for 30 minutes at 200ºC.
Serve with slices of apples and pears and a hot cup of Ceylon OP black tea. Collection 2019 Sale 70% Off Title for image
AUSTRALIA'S FINEST LOOSE LEAF TEAS
Explore Australia's largest selection of Premium Teas & All-Natural Organic Herbal Blends.