Matcha Tiramisu
Posted by SALINA - TEAS.COM.AU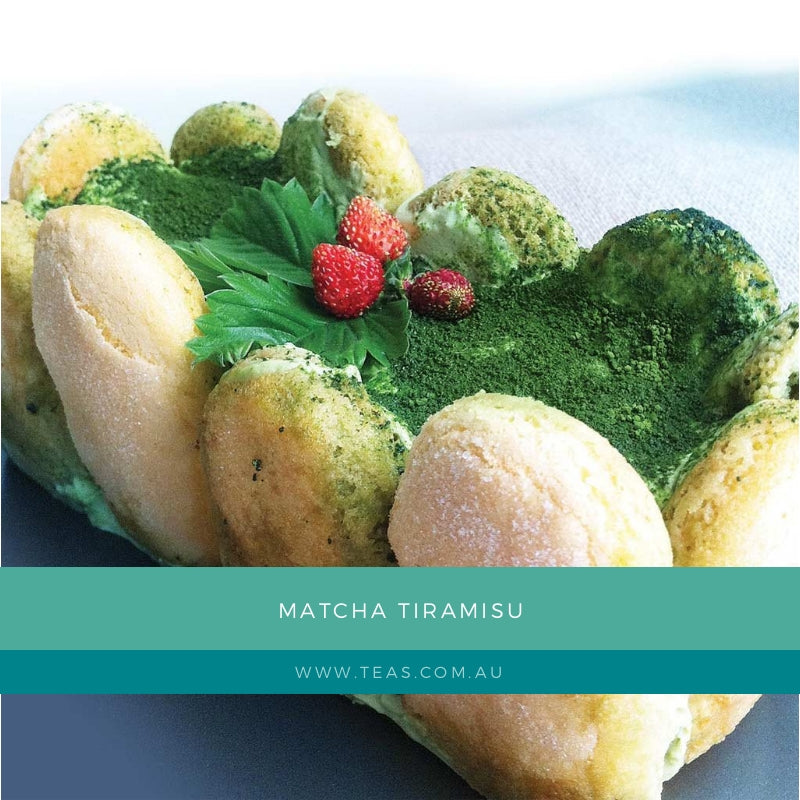 Matcha Tiramisu is possibly one of the best east-west hybrid desserts. Its richness is cut down by the matcha green tea, while remaining silky smooth and irresistible.
(makes a 7″ cake)
Filling:
250g mascarpone cheese
2 tablespoons icing sugar
1 teaspoon vanilla extract
2 teaspoons matcha* powder
200 ml non-dairy whipping cream
Ingredients
1 tablespoon matcha* powder
1/2 cup (125ml) boiling water
1 tablespoon lemon juice
1 tablespoon Grand Marnier
about 24 sponge fingers (savoiardi)
extra matcha* powder for dusting
Directions
To make the Matcha Syrup:
Place Matcha powder in a small bowl, add about 1/5 of the 125ml hot water above. Whisk with chasen till smooth. Add remaining water , stir well to make the Matcha bath.
To make the Filling:
In a mixing bowl, with a manual whisk, whisk mascarpone cheese with icing sugar and vanilla extract. Add in two teaspoons matcha powder and mix until blended.
With an electric mixer whisk the non-dairy whipping cream until stiff peak. With a spatula, fold in 1/3 of the whipped cream to the mascarpone mixture. Fold in the remaining whipped cream to the mascarpone mixture.
To assemble the cake:
Cut off one end of the sponge fingers so that each one is about 3″ in length. Line the sides of a 7″ round baking pan# (with a removable base or use a springform pan) with the sponge fingers. You will need about 17 sponge fingers (depending on the type/brand). If the last sponge finger cannot fit in nicely, trim away part of it to fit it in. Save the leftover small pieces.
One at a time, gently dip (do not soak) sponge fingers in the matcha syrup and use them to line the base of the pan. Or you can use a brush to brush the sponge fingers with the matcha syrup. Cut the sponge fingers into shorter lengths if necessary. Use the leftover pieces to fill the gaps.
Spoon over half of the filling. Spread evenly. Repeat with another layer of sponge fingers and spoon over the remaining filling. Spread and smooth the top. Cover with cling wrap and refrigerate for at least 4 hours, best left overnight.
Just before serving, unmold the cake and dust the top with matcha powder.
Note:
* Matcha – you can use Aracha Matcha, but if you want to upgrade it, go for Tencha Matcha.
#If you do not have a springform pan or a pan with a removable base, you can improvise by lining a normal round pan with a large sheet of aluminium foil or cling wrap. Give allowance of about 1~2 inches for the foil to hang over the rim of the pan. Place a cake board inside the lined pan. Follow the steps above. To unmold, simply lift up the cake from the pan by gripping the foil. Transfer the cake onto a serving plate and carefully remove the foil.
This recipe is slighted tweaked from Happy Home Baking
http://happyhomebaking.blogspot.com.au/2009/08/matcha-delight.html 
Want to know more about Matcha - check out our He drinks, She drinks in Facebook Live. Collection 2019 Sale 70% Off Title for image
AUSTRALIA'S FINEST LOOSE LEAF TEAS
Explore Australia's largest selection of Premium Teas & All-Natural Organic Herbal Blends.