Matcha Steamed Buns (Sliders)
Posted by SALINA - TEAS.COM.AU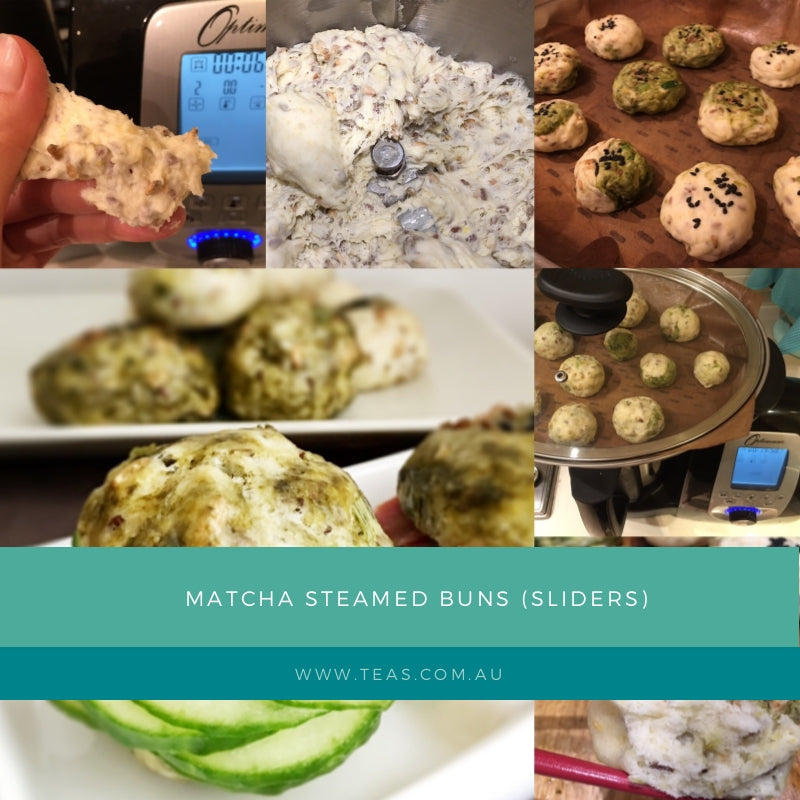 I have always wanted to make matcha steamed buns. I know, others have loftier goals but I know if my tummy is happy, I am happy ;)
Why Matcha? Amongst all tea, Matcha is the most versatile ingredient in the kitchen. I can put it in everything (I can't think of anything yet that doesn't play well with Matcha).
Matcha is fine like flour so adding this magical green tea powder in your food creation is super easy.
And I love my #Thermocook - it mixes everything together so quickly and nicely. But I love the added benefits in this case of less washing - more about that later. *
This is second time I am trying to make steamed buns using #thermocook. First time I made the buns too big and so when it steamed, it touched the lid and caught the condensation on the lid and making them rather wet. Not a good look or taste.
Because the steam tray is pretty shallow, I made them this time around 2cm high. It makes tiny buns - about ping pong ball size.
They do look ridiculously small compared to bought steamed buns, but you know what, actually I like them small - I always have issue with dinner rolls and steamed bun being too big. I force myself to eat it up because I want to be a good girl. Sigh...
So this is perfect. Just need to adjust my perception of how big a "normal" bun should be ;)
The other advantage of a small bun is they are like little sliders, so you can plate them like the cafe - 3 little buns side by side, with 3 different fillings.
Makes 20 baby buns
250ml warm water
500g wholemeal or bread flour
1 tsp baking powder
1 tsp sugar
1 tsp yeast
1 tsp oil


handful of chopped spring onion
pinch of white pepper (optional)
Extra oil for greasing
Directions
Warm water in #thermocook

Add flour, baking powder, sugar, yeast and start the knead program.

When you are down to the last minute of the program, pause to add oil. Start the knead program till finished.
By then the dough should be quite smooth and elastic. If you pull some dough between your fingers you can "pull" it to form a thin membrane.

Grease your hands with oil, then take out about half of the dough and place into a mixing bowl.

Add matcha, spring onion and pepper.

Mix till completed blended.

Oil hands and a board (eg chopping board). Start shaping the dough into 5cm balls and flatten a little so it is about 2-3cm high. Place them on your oiled board.

Mix and match your plan and matcha dough. I like shaping matcha dough into a smaller ball and wrap it with a piece of plain dough. Use your creativity (good activity for kids).

*The really cool thing after you take out all the dough from Thermomix is that you fill it with water for steaming! Switch on steam setting with normal black lid.
That means no cleaning! The water for steaming is actually cleaning your Thermomix while steaming your buns! (After buns are steamed, you can put do a quick smoothie program with the existing water with black lid on to clean further)
In the #Thermomix steamed tray, place down oven mat or baking paper. Place about half of your balls onto the tray, about 3cm apart.
When water is boiling in Thermomix, place the steam tray on with the buns with the lid on. Be sure the extra mat or paper is pointing outwards - if it is folded inside the lid, it will catch condensation and drip onto your buns and make your buns mushy.
Reset Thermomix to a new Steam program for 20 minutes. Press Start!
About 5 minutes before program finishes, prop the lid up with 2 wooden chopsticks - this will help the steam to escape when continue to steam finish. This way your buns will try a little on the outside giving you a more sheen look.
Once program finishes, the buns are ready to serve!
Slice buns horizontally with a knife and add in your favourite filling - veges, meat etc.
Want to know more about Matcha - check out our He drinks, She drinks in Facebook Live. Collection 2019 Sale 70% Off Title for image
AUSTRALIA'S FINEST LOOSE LEAF TEAS
Explore Australia's largest selection of Premium Teas & All-Natural Organic Herbal Blends.