Matcha Braided Bread
Posted by SALINA - TEAS.COM.AU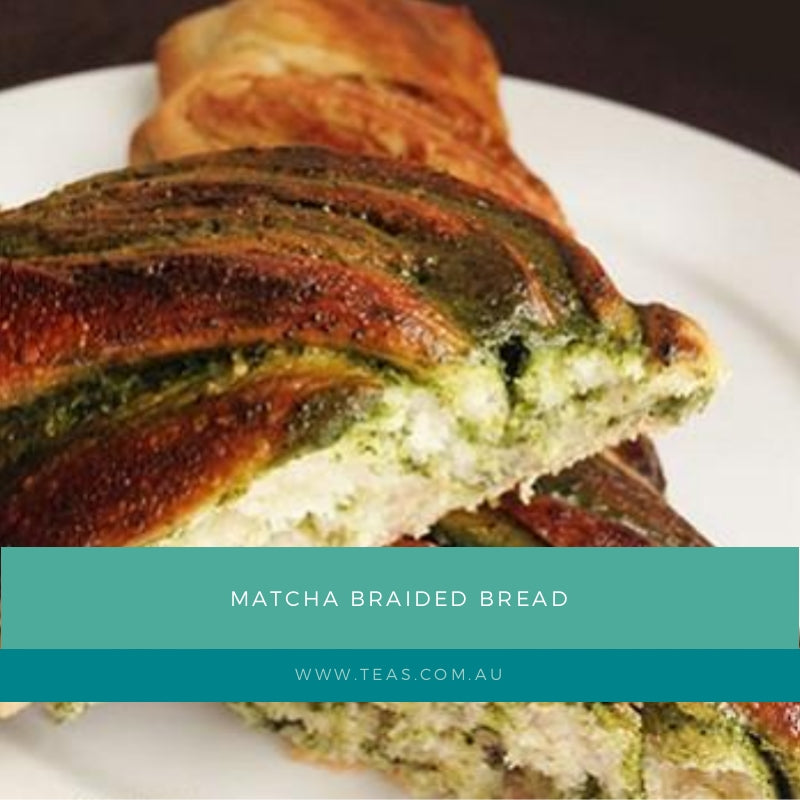 As some of you know, this Tea Lady here can't experiment baking without thinking of adding tea to the ingredient list!
So here is my take of this amazing dessert bread. Enjoy it with a tiny bit of thinned out custard or icecream.
I found this amazing looking Braided Nutella Bread from Inspired by Charm via Pinterest a few days ago and decided to give it a go today.
I have used the green tea powder Organic Aracha Matcha in this recipe. In the 4th pic you can see it is a bit runny, that's why in the recipe here I have added 1 tablespoon of cream cheese so the Matcha has something to make it more viscous, to prevent it from being too runny as you can see in 5th and 6th pics.
You can also see in the oven photo 6th pic, there is a ring – that's the nutella version. The long thin one far end is peanut butter and in the front end is the Matcha. Yes that's kind of my style of experimentation
The bread smells great and tastes awesome. Ok, it doesn't look as charming as the one from Inspired by Charm. I think my dough was a bit too soft because of the bread flour's inability to hold shape, but I like its more bready texture. If you prefer it to more "shapely", replace the bread flour with plain flour, which is what Inspired by Charm used in his original recipe. It's all about experimenting, right?
Half tray already in our belly straight after baking. Kids love it (which kid doesn't like nutella?) The Matcha version turned out great with decent green tea flavour and the sweetened condensed milk is JUST RIGHT.
Ingredients
1 teaspoon instant yeast
1/2 teaspoon bread improver
1 cup warm water
2 cups bread flour
1/2 cups wholemeal self raising flour
1 teaspoon salt
1 tablespoon sugar
1 tablespoon butter,
Matcha Paste
1 heap teaspoon Matcha powder
2 tablespoon sweetened condensed milk
1 tablesoon cream cheese (optional, but will make the matcha paste tidier to work with)
Glaze
1 egg beaten
Directions
In a small bowl, dissolve yeast and bread improver in ¼ cup of the water. Let it sit for 10 minutes and bubble up a bit.
In a mixer with hook attachment, combine 2 flours, salt, and sugar in the bowl. After add yeast solution and the remaining water, mix on low. Turn speed up to medium, and knead dough for about 15 minutes or until the dough is smooth and stretchy. Turn off mixer.
Add in butter, turn on mixer on low then to medium and mix till all blended.
Warm over to 50°C, turn off. Pour boiling water in a tray and place in lower rack in oven.
Place dough in a well oiled over tray. Spray with water using a spray bottle. Then place the oven above the tray of water in oven. Make sure oven is off. The dough is ready when doubled in size – about an hour.
To prepare Matcha Paste, mix all 3 ingredients until well blended.
On a lightly floured surface, roll dough to form a rectangle, roughly 20x30cm. Spread Matcha Paste in an even layer on the surface, leaving a 2cm border of dough.
Roll with light fingers and place on a baking sheet. Cut the dough down the middle with a knife, leaving one end intact. Twist ends over the top of each other, making sure to turn cut side toward the top. Lightly spray with water, place back in oven with the warmed water bath and let sit 20 minutes.
Preheat fan oven to 150°C.
Brush surface of the bread with the egg. Bake bread for 20 minutes.
Want to know more about Matcha - check out our He drinks, She drinks in Facebook Live. Collection 2019 Sale 70% Off Title for image
AUSTRALIA'S FINEST LOOSE LEAF TEAS
Explore Australia's largest selection of Premium Teas & All-Natural Organic Herbal Blends.