Matcha cream cheese quick bread
Posted by SALINA - TEAS.COM.AU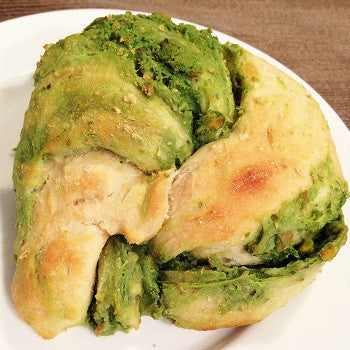 Quick bread from start to serve in an hour! This is one of the quickest and tastiest bread I have ever made. The sticky dough keeps the bread moist.
Makes 6 buns
Ingredients
1 cup warm water

1/3 cup Greek yoghurt

2 Tbsp active yeast

1 Tbsp sugar

1/2 tsp salt

1 egg

2 cups bread flour

1/2 – 3/4 cup wholemeal flour + a little more for dusting
Matcha dough additions:
Matcha powder 1 Tbsp
Cream cheese 50g
Pistachio kernels about 12, finely chopped
Directions
Mix warm water, yeast and yogurt in the mixer, let it sit for 5 min, while measuring all ingredients.
add all ingredients in mixer except wholemeal flour.
Using the dough hook attachment of a stand mixer, blend in low speed
Add wholemeal flour gradually as the dough is mixing – add just enough flour for most of the dough to come off the bowl. The dough should be still sticking fingers but shapable.
Oil baking pan
Blend the 3 matcha dough additional ingredients in a small bowl till mixed.
Dust hands with little flour. Take 1/3 of the plain dough and mix with the above matcha dough additions. The dough will be sticky and hard to handle, so just mix as well as you can.
Roll both plain and matcha dough into long rolls.
Put them side by side and twist them. Cut every 20 cm twisted dough and turn it into a round bun.
Spray buns with water.
cover and let rise for 10 minutes
heat the oven to 180oC
bake 10 minutes or when lightly golden
These buns have lightness with good texture for quick bread. The green tea fragrance adds a pleasant taste to the bread and make you feel less bloated after eating it.
This bread is tasty on its own. We had them just out of oven this morning for Sunday lunch with ham and babaganoush. Yum yum.
Tea Pairing: we suggest a cup of Sencha or Bancha Japanese Green Tea, or a light cup of Darjeeling Snowview. Collection 2019 Sale 70% Off Title for image
AUSTRALIA'S FINEST LOOSE LEAF TEAS
Explore Australia's largest selection of Premium Teas & All-Natural Organic Herbal Blends.