Why The World Is Booming Over Blossoming Tea!
Posted by TEAS AU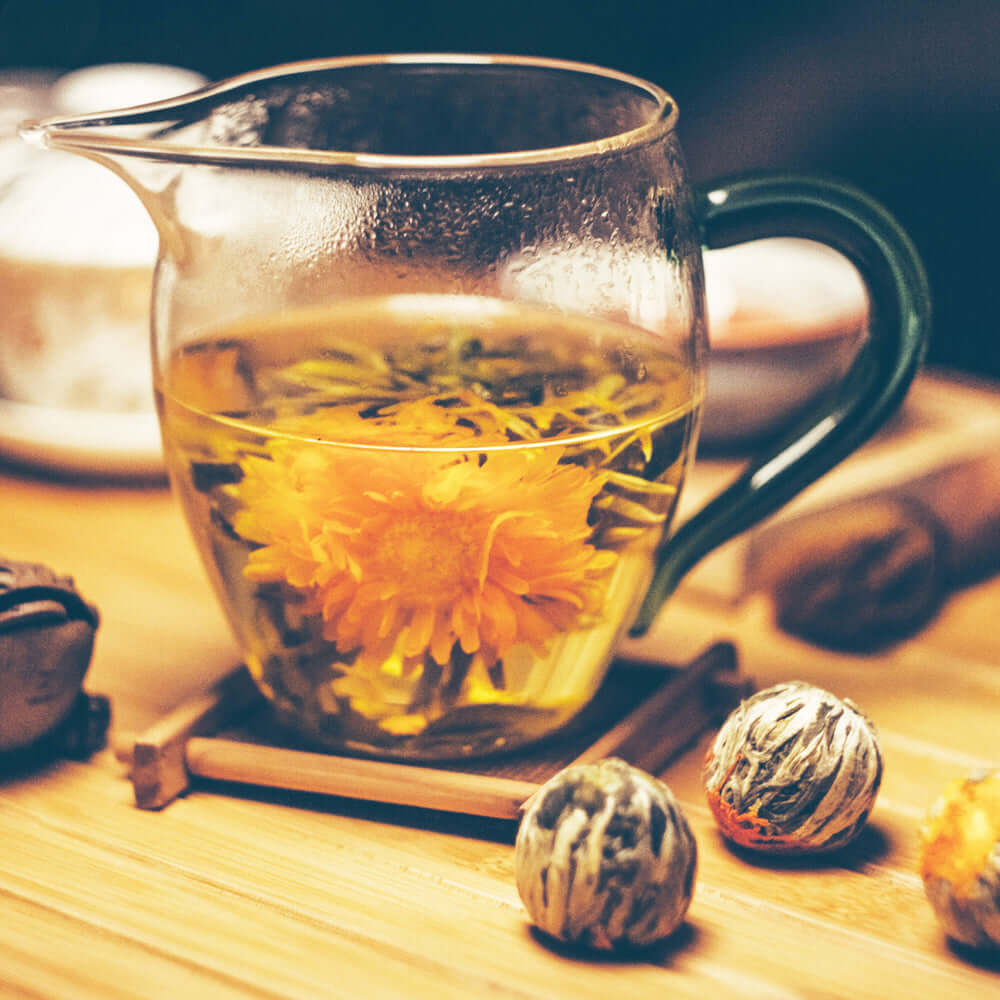 Whether you call it blooming tea, blossoming tea, or even flowering tea – this spectacular tea has taken the world by storm, and here's why!
Originating from China's hidden paradise Yunnan, the blossoming tea represents the beauty, colour, and essence of China in every sip. The brewing/steeping process takes you on a visual journey, where you will transform your teapot into experiencing the spirit of Yunnan right in front of you.
What puts the blossom in blossoming tea?
Blossoming tea is often called flowering tea, this is because organic green tea is combined with the beautiful jasmine flower and other dried flowers to create a floral bulb. The bulb is created by selecting dried flowers that will add to the health benefits of drinking the tea – the dried flowers are then bundled together with tea leaves and positioned to dry and set into a bulb, preserving all the natural flavours and freshness. When ready to be enjoyed, boiling water is poured over the floral bulb - it unravels and reveals a beautiful flower, creating the visual essence of a blossoming flower. It's no wonder why the amazing synergy of beauty, flavour, and health benefits of blossoming tea has become a worldwide favorite!
How blossoming tea blooms into health benefits
We all love something that will give us amazing health benefits just by drinking it right? Well, blossoming tea has fantastic health benefits that will have your mind and body feeling refreshed and rejuvenated.
With each bloom of blossoming tea, health benefits are released:
Excellent source of antioxidants

Flavonoids and catechins are released to fight free radicals in the body and repair damaged cancer causing cells

Anti Aging properties to improve overall health and appearance

Certain catechins in green tea are often used to treat mouth bacteria that causes bad breath and mouth cancers

Improves metabolism

Boosts energy levels

Promotes fat burning and weight loss

Theanine (amino acid found in green tea) helps to reduce anxiety, stress, and insomnia

Reduces bad cholesterol levels

Improves skin tone and texture

Excellent source of body detoxification 
The aromatherapy and visual beauty of the floral bulb flourishing into a gorgeous and rather tasty tea is known to help reduce stress and improve overall well being of mind and body.
Blossoming tea is becoming one of the most popular and well received gifts out there. Not only will your loved one adore the aesthetic appeal of the blooming flower, but also they'll be able to reap the health benefits, and glorious taste of this magical tea.
It will be a gift they can open multiple times as each serving is approximately 6-10 cups of tantalizing tea!  
The brewers guide to the perfect brew
Now that you're all clued up on the nitty gritty of blossoming tea – Here's a simple guide on how to achieve the perfect brew:
Place the floral bud into a

clear glass teapot

(you want the transparent glass in order to see the magic of the floral bud blooming)

Bring your water to a rapid boil, then leave to stand for 1-2 minutes

Pour your hot water slowly over the floral bud until it's completely submerged with water (don't pour the water too quickly as this may cause the bud to float to the top of the teapot)

Sit back, relax, and witness the magic of the floral bud transforming into a beautiful flower

Steep the tea for 4-5 minutes or until your desired strength

Enjoy the wonderful taste and health benefits of the blossoming tea
Blossoming tea is not just a tea, it's a magical experience with multiple benefits! So whether you're in it for the aesthetics, the delicious taste, the blooming perfect gift, or if you're just curious about it – Blossoming tea will leave you healthier and happier than ever before! Collection 2019 Sale 70% Off Title for image
AUSTRALIA'S FINEST LOOSE LEAF TEAS
Explore Australia's largest selection of Premium Teas & All-Natural Organic Herbal Blends.