Puerh Introduction
Posted by SALINA - TEAS.COM.AU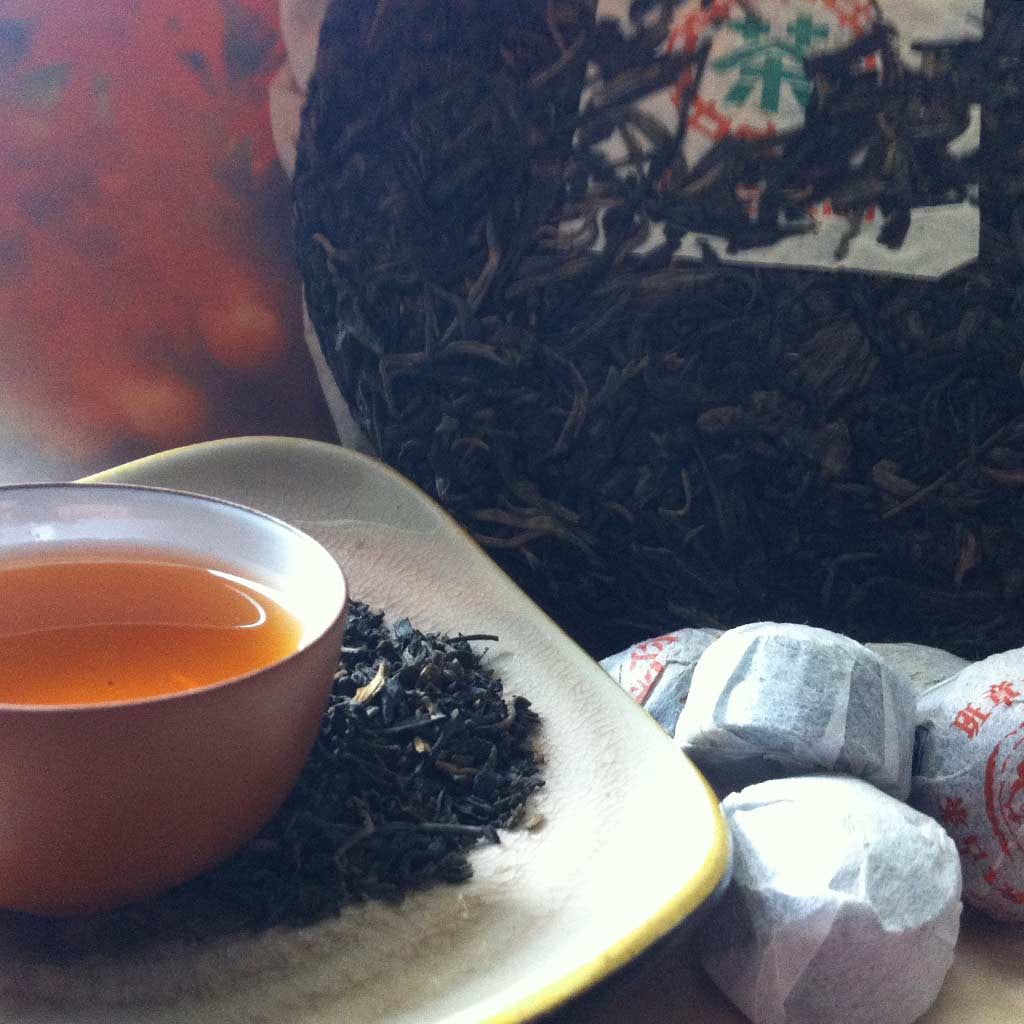 Pu-erh (Pu'erh / Puerh / Pu er / Po Lei ), is referred by some as the "Vintage tea".
In fact, Pu-erh that has not celebrated its 1st birthday is hardly drinkable. Older Puerh cakes are collectibles and traded for a small fortune.
2 kinds of Pu-erh:
Raw (naturally fermented) and

Ripe (cooked / artificially fermented).
The former is lighter in taste but can be more astringent, traditionally raw Puerh is made into cake or disc shape.
Ripe Puerh tends to be flatter, more gentle to the stomach, and comes in loose leaf form, compressed shapes particularly large and small mushroom shaped ones called Toucha and other decorative shapes like pumpkin shaped ones.
What does Pu-erh tea do for you?
Pu-erh has been long used in China to aid digestion, warm the body and detox the body after eating heavy meaty meals.
Pu-erh tea also enjoys the reputation as "Weight-loss tea", "Beauty tea", "Slimming tea" and "Health tea". It is mildest tea type to the stomach, especially
Does Puerh tea have caffeine?
Pu-erh over 5/10 years old – its caffeine content reduces as it ages.
Want to know more – check out the video below.
In the above video: We have been getting quite a lot about inquiries about Pu-erh and that's really exciting development in Australia.
The reason is that, first not a lot of people are knows about Pu-erh but the people who are actually asking about it often they are jumping a few steps asking about the Pu-erh cake.
Now you may be wondering are we talking about tea still.
Did you just say cake?
Yes indeed I just said cake. Let me show you one of them, this is a Pu-erh cake.
Now there are many different kinds of Pu-erh.
The study of Pu-erh is a life long journey and I'm not pretending to be an expert in it, but let me share what I know about it.
To start, Pu-erh is actually a tea that gone through a very long period of fermentation time.
Comparing to any other tea, it's actually better aged.
So we are saying that if you have managed to get your hands unto anything older than let's say 15 years, guard it with your life.
And its bit like of those collectible things you can actually really pass it on to generations and get tremendous wealth out of it.
Now, Pu-erh is from China and to be greatly categorizes as Pu-erh, it has to be from the Pu-erh provinces itself.
This whole thing is a bit bizarre. Pu-erh doesn't actually make Pu-erh, but all the tea from Yunnan province come to Pu-erh and then it get to manufacture or and export that and so on.
Some of them actually export them. Create them, make them first then export them. So it has to be Yunnan tea leaves in order to be made into Pu-erh, if you know a little bit of Chinese Trophy.
If say for example you've got a Pu-erh light tea but are actually made from Fujian province tea leaves it cannot be countered as Pu-erh.
It can be categorized as the Chinese black tea.
So that is something that is quite unique, and also Pu-erh is something that can actually split into two categorization.
One is raw one is ripe, and in the next video I'm going to tackle more about this, but here this little video is to tell you that Pu-erh is a vintage tea that is typically store for a long time.
It is known as good for digestion some Chinese herbalist actually suggest that older people actually drink that maybe an hour before bed for circulation purpose.
What does Pu-erh taste like?
Pu-erh even though it looks really dark once you made it but it is actually very gentle to the stomach.
Puerh tastes varies because of its aging process. If it is raw and still quite young, it takes more like an astringent green tea with some fresh hay tones. 
Aged Puerh that has a more coppery colour tastes more earthy and grounding. It is almost mesmerising when you sip a 10 years old puerh. It's potency is understated yet lasting.
So there you go a little info about Pu-erh and the next one we will really get going into the Pu-erh tea cake. Collection 2019 Sale 70% Off Title for image
AUSTRALIA'S FINEST LOOSE LEAF TEAS
Explore Australia's largest selection of Premium Teas & All-Natural Organic Herbal Blends.