Matcha Egg White Mini Muffin
Posted by BEV A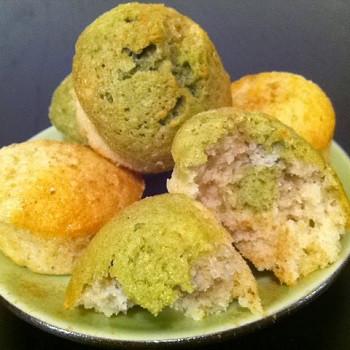 A yolk free muffin with a touch of Matcha green tea. This muffin has a sticky top and it's fantastic to go with, what else, but a good cup of Japanese Bancha green tea?
Makes about 12 mini muffins
3 egg whites
100g sugar
50g self raising flour
50g melted butter, slightly cooled
1 heap teaspoon Matcha Green Tea
Directions
Preheat oven till 180ºC.
Whisk egg white with a little bit of sugar from above till thick with stiff peaks. In a large bowl, mix sugar and flour, add 1/2 of the egg white and mix quickly.
Then pour in the other half of the egg white in the flour mixture. Fold lightly till roughtly mixed.
Finally fold in melted butter.
Scoop all batter into individually oiled mini muffin moulds, except about 2 tablespoon of batter. Mix the Matcha with this remaining batter, stir well then add on top of the batter that is already in the individual moulds.
Bake for 15 minutes, or until cooked.
This afternoon treat is great for kids. The Matcha content is pretty light…
Serve with Organic Bancha for big kids. Maybe with a dollop of yogurt.
You can purchase Matcha Green Tea at
Teas.com.au
Writer: teas.com.au Collection 2019 Sale 70% Off Title for image
AUSTRALIA'S FINEST LOOSE LEAF TEAS
Explore Australia's largest selection of Premium Teas & All-Natural Organic Herbal Blends.