Smoky Ham & Corn Buns
Posted by BEV A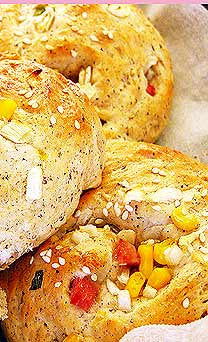 These buns are great as breakfast or afternoon tea treats. Nice and soft with a slightly sticky soft crust. The Russian Caravan tea gives it a full body smoky touch!
Makes 6 buns


Dough:

2oz / 60ml boiling water
8oz / 125g High Grade / Bread Flour (not Bread Mix)
11g (roughly 11/2 sachet) dried yeast
25g butter
3oz / 90ml warm water
12g sugar
a pinch of salt
a pinch of white sesame seeds

 

Filling (quantity to suit your liking):

Diced ham
Corn
Spring Onion, chopped
Half onion, finely diced
A pinch of chicken stock powder or salt
1 tbsp white sesame seeds

 

Directions

Ground Russian Caravan Black Tea either using the back of a Chinese chopper as shown in photo or a pestle and mortar until fine.
Add 60ml boiling water to ground leaves. Cover (with a plate) and let it infuse. Mix the rest of the Dough ingredients.
Add Russian Caravan infusion (including the ground leaves) into the dough. Mix well. The dough should be elastic and doesn?t stick to the side of the bowl (add a little more flour if needed, but the dough should remain moist).
In a clean mixing bowl, sprinkle lightly with flour and place the dough. Sprinkle a little more flour on top of the dough. Cover with plastic wrap and a warm towel. Place in a warm place for 30 minutes to rise.
Knock back to expel air after 30 minutes. Cover with plastic wrap then warm towel again and let the dough rise for another 30 minutes in a warm place.
Preheat oven to 200 degrees Celcius.
Place the dough on a lightly floured surface and lightly roll out to a rectangle roughly 20cm wide and 30cm high.
Sprinkle all filling ingredients onto dough except sesame seeds. Roll with a light hand into a log shape.
Dip a sharp knife in water then cut the log into roughly 4cm wide pieces and lay them flat on a baking tray lined with baking paper, at least 2-3cm apart.
Cover the dough again with plastic wrap and a warm towel. Let it rise for a further 20 minutes.
Brush the dough with a mix of 1 tbsp milk with 1 tsp honey and sprinkle sesame seeds on top. Place the dough in an oven and bake for 10 minutes or golden brown.
Enjoy when it's hot! Try pairing these buns with a cup of good Golden Danchong oolong. Collection 2019 Sale 70% Off Title for image
AUSTRALIA'S FINEST LOOSE LEAF TEAS
Explore Australia's largest selection of Premium Teas & All-Natural Organic Herbal Blends.