Most Requested Teas
Posted by BEV A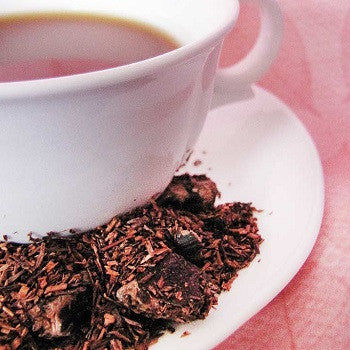 In the above video: Hello, I wanted to talk to you about the most requested teas.
Underneath the Most Wanted tab, you will actually find some of these popular ones.
These are the ones that people do ask a lot about, especially the Organic Plantation ones.
Basically when you go in you'll find all the teas starts with either org or organic.
We don't just sell organic tea or don't just sort of most of the normal stuff, so there is a bit of the mix there.
These are from certified organic plantation, there is also another section here of partly organic. Essentially what that means is that we are trying to get more and more organic teas and organic ingredients.
So these teas are sort of in the transition process, they have at least 50% of organic ingredients in it.
If you click on any of them, basically what you will find under the ingredients is that anything that is organic is saying organic here. In fact this particular one this should have an organic black tea here.
This is basically where you can find the popular stuff and also another spot that you will find them from a less grouping but more individual product basis, go to the most requested link which I have gone already and its here.
Most requested you will find the good old classic ones like the organic English breakfast, Earl Grey, Chai, this particular chai is fantastic for cafe if you want to make like Chai Latte so adding a bit of sugar and milk and it is perfect.
Then there is green tea such as the Jasmine green tea like the Yumcha tea which is pretty popular as well but some people call it Jasmine tea.
There are some herbal such as Ginger Kiss, often when people ask for ginger or lemon grass this is our suggestions, this is usually our ginger and lemon grass blend with a tiny bit of Hibiscus in it.
Rooibos
that's pretty popular as well from South Africa. It tastes a bit like black tea as you can see the colour is quite similar but its caffeine free. It's actually herbal tea and it's good for babies to drink and they are a range here.
We are a leaf tea specialist and people typically don't just come to us and buy old boring English breakfast, they are ready to venture out.
So even with English breakfast, we suggest looking for Assam, it's a good strong robust black tea from India that is fantastic on its own as well as use to for mixing.
Daintree is from Northern Queensland and it's an Australian tea as well in fact we have a few Australian teas as well.
Then there is the Aussie Green tea which is featuring the Lemon Myrtle from New South Wales and the Organic Bancha Japanese green tea so that one is pretty nice – hot or cold, a little bit of a lemony without too much sharpness.
Genmaicha, it's a good old popcorn tea that a lot of Sushi or Japanese Restaurant serves.
Tencha Matcha is a high grade green tea powder that we sell for people who really want to enjoy the authentic Matcha taste.
There is a lot of green tea Matcha product out there that is loaded with sugars or fillers like soda powder, part of the reason is they want it to froth a bit more because people are using it in green tea latte.
Again this is a bit of an expensive product to go and to be used in a latte form but it's a possibility.
They turned out to be an organic Aracha Matcha that would be a cheaper product if someone wants to use it for latte or milk shake those kinds of things.
Then we have three oolongs here; Tie Guan Yin Light from China, Gin Shan Crème and Rose oolong from Taiwan.
The most popular Oolong we have got is the Gin Shan Crème or the White Dragon and it's got a milky flavour added to it and its really good tea for people who wants to get beyond black tea and ready to taste some lighter tasting tea.
The milky fragrance helps people ease in trying lighter tea without that grassiness to it.
Tie Guan Yin light is a Chinese Oolong and if you look at the tea leaves, in the cup at the back ground here, it has darker leaves compared to Gin Shan here.
Essentially, with Oolong, the darker the leaves the stronger the brew, so Tia Guan Yan tea is slightly stronger tasting Oolong.
Then you have the Rose Oolong that is very popular with ladies especially when we are asked about weight management and digestion and we often suggest Rose Oolong, because this is fantastic for skin and Oolong itself is known for digestion and it's very well known in weight loss tea in Asia.
Then we've got two white teas here – it's essentially the least processed tea type. They are basically plucked from the plant and sort to grade. So the really good one are tea buds not leaves, and you can see here we've got two types; the Jasmine Dragon Pearls is really for the people who wants to enjoy white tea but one of that familiarity is like that of the Jasmine Green tea. It's a higher grade white tea.
There are some Jasmine Dragon Pearls that are actually green tea based rather than white tea, but they are sold in the white tea price so obviously not really a genuine article. It is also very well known as Buddha Teas in Australia.
Dragon pearl is the direct translation of the Chinese name.
Organic Pai Mu Tan
or White Peony is a good entry level white tea.
It's a little bit stronger in terms of the strength of the tea comparing to most of the white tea and not too strong for there is another one down from here and if you look at the picture the brew is quite coppery brown so it is definitely a stronger tea, so these two are the popular ones.
Another one here is the Hibiscus which is fantastic and sometimes they call it the pink tea because it's got this crazy ruby colour and it tastes tartish and a lot of people say it taste like a cranberry juice or Ribena without sugar. Because of this crazy red color it's very attractive to kids as well.
You can also turn it into Slushie, Popsicle and iced tea with mixed fruits.
Hibiscus is fantastic in many ways and so good for all age groups.
People do ask for it under different names like the Turkish, Egyptians call it Kakade and in Australia often it's associated with syrup called rosella syrup, so Hibiscus s also known as Rosella.
If you imagine these saple pieces, sometimes people call it flowers, if they are being cooked in a syrup and put in a jar and sold in that sort of naughty format, then you can just drop one of these flowers into a champagne flute with champagne and it will just turn into this lovely Rosella colour.
So that's why a lot of Australian known Hibiscus as the Rosella syrup.
Cha-cha and Carnival are two fruit teas that we have that are pretty popular.
Cha-cha is the particular one that we really want to promote because most of the fruit infusion actually has fruit flavors added to it.
The fruit infusion on its own if you just imagine a few pieces of fruit drop into a mug, add hot water in it, you don't get a descent flavoured drink.
So it is actually quite impossible to do it without added flavor.
We've been really working all along trying to create a fruit tea without added flavour and Cha-cha is our creation from that mission.
As close to the sour plum taste to it and a little red fruit, as you can see it's a pretty infusion and it's lovely hot or cold, add a little bit of honey to it it's lovely.
Then we come to Mandarin Pu-erh, Pu-erh itself is quite earthly tasting tea. Some people look at the brew colour and think it's really bitter.
The brew shown here is sort of a lighter version some of them even darker, the fact is that actually the colour does not indicate that it's a very strong and bitter brew.
It's just the colour that is a bit scary.
This Mandarin Pu-erh is a more zingy version among refreshing version of the rusty, earthly version tasting of Pu-erh.
Pu-erh generally is known for digestion and one of the few rare kinds of tea that is actually better aged.
This particular Pu-erh in Mandarin Pu-erh is aged for about 2-3 years and they are definitely Pu-erh that's been aged much longer.
If you get 10-15 years old Pu-erh they are pretty expensive.
This is a nice entry version – it's great as a detoxing tea as well and warming tea.
If anybody ask for detoxing tea, Ginger Kiss is pretty good, white tea is good, green tea generally, Matcha, the Jasmine green tea, Aussie green, they are pretty good all-around easy to drink type of detox tea.
Of course we have the detox tea section at the top drop down menu again, that is actually helpful for people looking for actual detox tea and there are a bunch of herbals there as well.
Then I'm just lightly touching on two most popular teaware:
Tea for One tea pot and it's coming in 300 ml, it used to be 275 and at the end of the day 25 ml doesn't really make a humongous difference.
It's really more of a visual thing because coffee mug is usually about 200-250 ml and a tea cup is typically around 150ml, so here we talk about sort of 1 ½ or two cups full of tea from a tea cup's perspective.
This is a really popular one person or café-use tea pot.
There is the coil that is actually in the spout area that is hooked there so it's easy to unhook to clean as easy to filter most of the tea.
There will be some tea that has very fine leaves like Rooibos that might come through a little bit but overall it's easy, it's really a good all rounded tea pot for most tea use.
Then there is this Cup Holder Infuser, our own design. The infuser itself, if you go in to have a quick look, you will see there's this a little notch thing here that actually can hook into the mug like this.
This is a very good design and it's very popular.
This particular Cup Holder Infuser is sold out a lot because the manufacturer is very slow.
If you are interested with this I suggest that you grab it while in stock.
There you have it, a bit of an intro of some of our most popular and most wanted teas, don't forget there is this grouping here of the most popular stuff and also under the flavour / mood there is this detoxing relaxing all that sort of stuff that help people to really get a better experience in using different sort of tea for different functions, properties and enjoyment.
Don't forget to visit Teas.com.au! Collection 2019 Sale 70% Off Title for image
AUSTRALIA'S FINEST LOOSE LEAF TEAS
Explore Australia's largest selection of Premium Teas & All-Natural Organic Herbal Blends.