MATCHA BIGKAT: Giant Matcha Kitkat Dupe Recipe
Posted by DARENN BAAT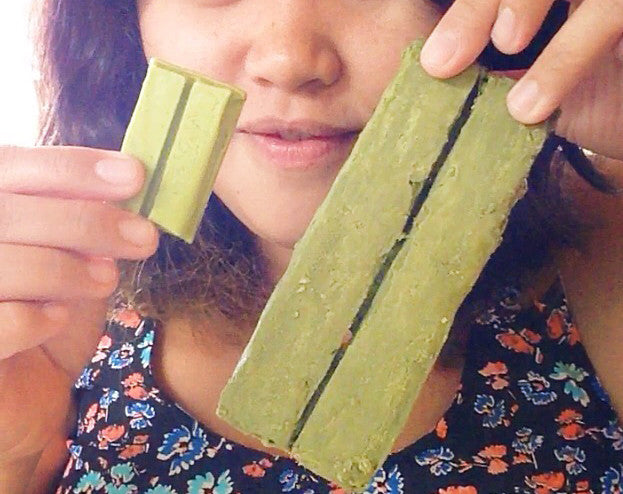 Once you have tried it you will want to have more.
Matcha kitkats is among unique delights you can find exclusively from Japan.
My aunt who went on a Japan tour last year came home with a pack of Matcha Kitkats exclusively labeled as "Shaun".  Mine!
I opened the pack.  Tried one.  Then another one.  And another one, until there was none left in the bag.
This certainly made it to my top 10 favorite sweets that are not made in just any country.
As an avid replicator of food I have tried all over the world, I decided to try to create a dupe of this one.  But wait, not just a dupe, a GIANT DUPE of the Matcha Kitkat.
Shaun's Giant Matcha Kitkat Dupe Recipe
INGREDIENTS:
24pieces Loacker Quadratini (Napolitaner flavour)
76g White chocolate
1 Tbsp Aracha Matcha green tea powder
UTENSILS:
2 small bowls
Large bowl
boiling water
spoon
baking tray
wax paper *optional
DIRECTIONS:
1.) Place the Loacker Quadratini in four columns of 6 on a piece of wax paper or straight on a baking tray.  Set aside.
2.) Pour boiling water in the large bowl but not too much so when you put one small bowl in the middle, no water goes into the small bowl.
3.) Break white chocolate pieces and place into the small bowl in the middle of the large bowl with boiling water.
4.) Stir the chocolate with the spoon until all of it is melted.
5.) Take the small bowl out of the water and mix the Matcha powder.
6.) Take about one third of the mixture, place it in the 2nd small bowl and place back into the large bowl with the water.
7.) Take the first small bowl with more matcha white chocolate mixture and pour gently over the rows of Vanilla squares making sure that it is well covered with the mixture.
8.) Place the baking tray with the matcha chocolate covered wafers in the chiller for at least 10 minutes.
9.) Take out the tray.  Carefully loosen the matcha chocolate covered wafers and flip them on its back.
10.) By pairs or individually (depends on your preference. Pour the matcha white chocolate from the second bowl onto the bottom side of the wafers.
11.) Place back into the refridgerator for at least 10 minutes.
It is not recommended you finish all bars in this recipe.  Share a Big Kat and win a friend.
I hope you find this recipe helpful and fun to make with your loved ones.
Click here to purchase Matcha Japanese green tea powder. Collection 2019 Sale 70% Off Title for image
AUSTRALIA'S FINEST LOOSE LEAF TEAS
Explore Australia's largest selection of Premium Teas & All-Natural Organic Herbal Blends.