Mulled wine lavender sorbet
Posted by SALINA - TEAS.COM.AU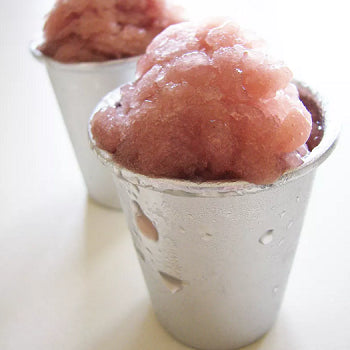 Like many, I decide to make my own icecream because I want to enjoy frozen dessert that has less sugar.
The trouble is, in order to make sorbet like a sorbet, you need a syrup, which means a lot of sugar.
I came up with the following low sugar sorbet recipe using cornstarch. I was initially rejecting the idea of adding cornstarch to sorbet thinking it will make it "cloudy" in colour or "floury" in taste but it doesn't at all.
In fact, it makes it keeps better, much easier to scoop and has a similar texture to the "supermarket variety".
Makes 2 small servings
2 1/3 cup water
50ml port or red wine
5 tbsp sugar#
1 small scroll cinnamon
4 cloves
1 tsp lemon* rind
1 tbsp lemon* juice
1 tbsp lavender
2 tbsp cornstarch
Directions
Place all ingredients in a saucepan except lavender, cornstarch and 1/3 cup water.
Heat to boiling, then boil for a few more minutes, then turn off heat, add lavender. Stir then cover and let it sit for 5 minutes.
Mix cornstarch and the remaining water in a small bowl until well mixed.
Stir the cornstarch mixture into the wine mixture, stir constantly. The liquid should thicken to a gravy consistency. If it is a little bit thin, turn on the heat again for 10-20 seconds. Make sure to stir constantly and not to overheat or lumps may form.
The mixture is thick enough if it can coat the back of a spoon.
Strain and pour the mixture into a shallow dish, cover and freeze for 2 hours.
Finish off by churning in icecream maker accordingly to machine's instructions.
Put back to the freezer for at least 30 minutes, then ready to serve. (It can be served the same day, but tastes better the next day)
#Adjust to the sweetness more than your preference. The sorbet mixture will taste less sweet once frozen. Collection 2019 Sale 70% Off Title for image
AUSTRALIA'S FINEST LOOSE LEAF TEAS
Explore Australia's largest selection of Premium Teas & All-Natural Organic Herbal Blends.