Samurai Strategies: 42 Martial Secrets
Posted by PETER - TEAS.COM.AU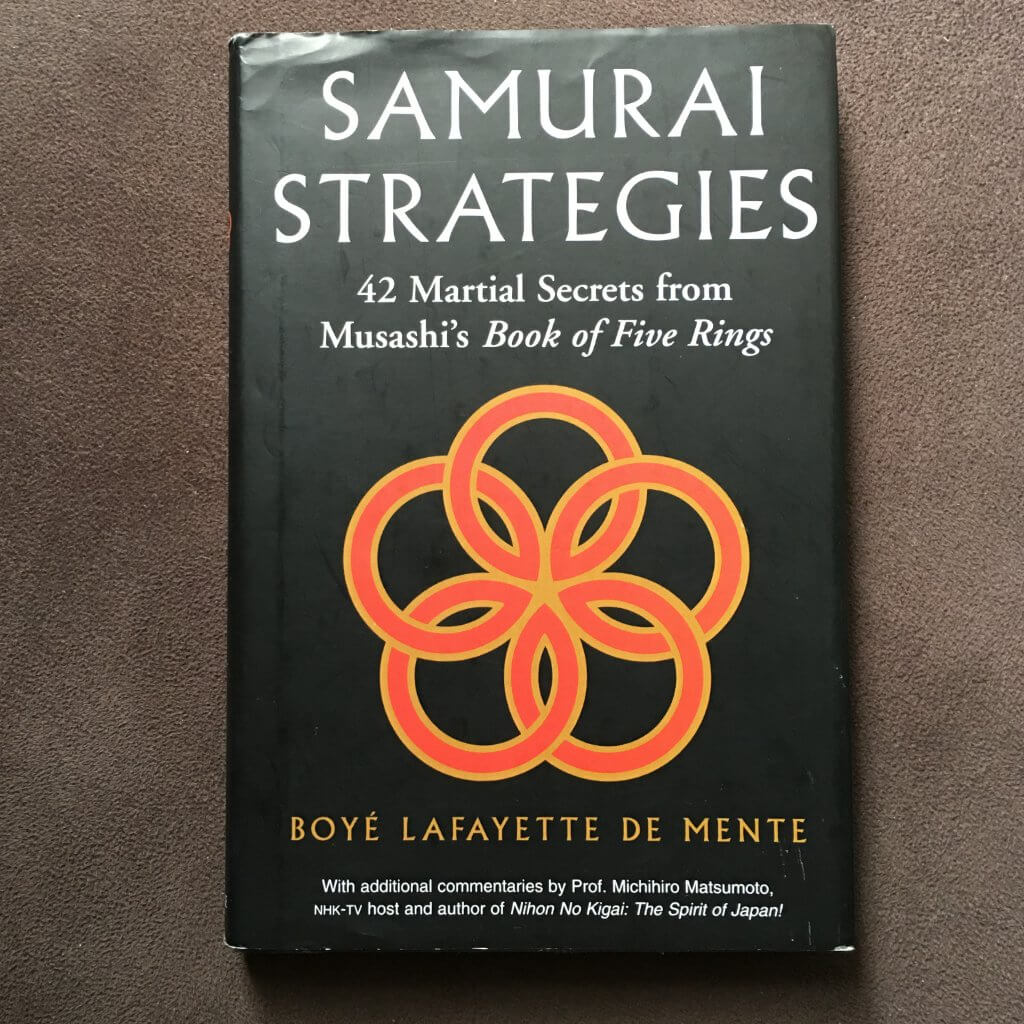 Samurai
Strategies
: 42 Martial Secrets from Musashi's Book of Five Rings
- By Boyé LaFayette de Mente
With additional commentaries by Prof. Michihiro Matsumoto, NHK-TV  host and author of Nihon no Kigai: The Spirit of Japan!
For those seeking to dive into the way of the Japanese samurai, one of the quintessential treatises of the samurai era is the Book of Five Rings – Go Rin Sho 五輪書, by Musashi Miyamoto, a warrior who lived from 1584 to 1645 and who became the greatest swordsman of all time.
In our modern fast paced life, reading a copy of Musashi's book may not always be possible. In order to assist us, Boyé Lafayette de Mente has distilled its essence in this book.
Samurai Strategies: 42 Martial Secrets from Musashi's Book of Five Rings, is a concise manual broken down into 42 easy-to-read strategies, that only go for a few pages per chapter at most.
These chapters are short to allow, say a busy executive, to get the gist over a cappuccino or Japanese genmaicha tea. And ponder its lesson.
And the fact that each chapter can be read in order or separately, makes them ideal tools when applying them in business, sport or life what was gleamed to achieve their goals like a samurai.
After having read it all the way through, I've gained much insight and pleasure from being able to quickly read and learn the stories while not getting bogged down in trivialities. 
The additional commentaries by Professor Matsumoto give an interesting contrast between the samurai world of old and the Japan of today. While a lot of it is a lament on what has been lost, I have found it to be useful in helping those not familiar with Japanese society, to navigate between what is Japanese culture now and what was Japanese culture then. The differences sometimes being wider than expected: Powerful insights useful at the negotiating table or boardroom.
The physical size of the book also means that it can be carried around discreetly in one's briefcase for easy access when required. This is a must-read for aspiring would-be samurai.
12 WEEKS TO CHRISTMAS -

 


YOUR TEA LIFESTYLE CHALLENGE 
For 12 weeks, we will review 1 book per week - the book reviewed is also the one we give away.


To enter to win the "book of the week":
2) add "
TEA LIFESTYLE CHALLENGE 8" anywhere in your email to share the review.


One friend emailed = one chance to win.
The more friends emailed, the more chances to win.
Enter as many "book of the week" draws as you like by sharing the review as mentioned above.


This draw is open to enter for 1 week from the review post date - from midnight 19 Nov to midnight 25 Nov 2018, Sydney (Australia time)


Have fun and read for your pleasure and leisure, with a delightful cup of tea! Collection 2019 Sale 70% Off Title for image
AUSTRALIA'S FINEST LOOSE LEAF TEAS
Explore Australia's largest selection of Premium Teas & All-Natural Organic Herbal Blends.