Orange Almond Cake with Goji Berries and Lemon Jasmine Tea Icing
Posted by SALINA H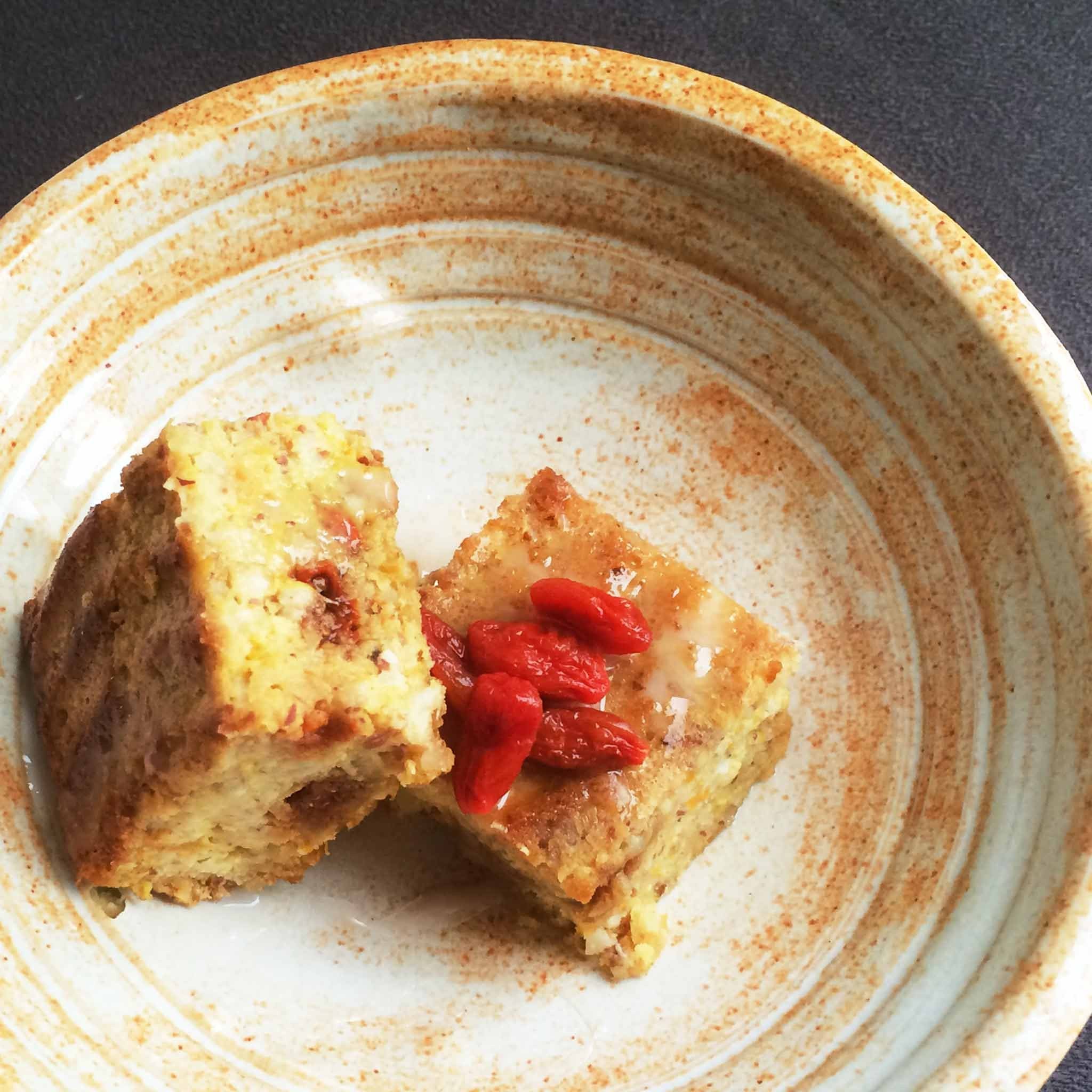 This is one of my favourite cakes for its rich orange flavour. This time I am making it using my new Thermocook, adding a touch of Goji berries and Jasmine tea ;)
My friends love this cake. They are pleasantly surprised by the rich natural orange taste, as well as the fact it has THE WHOLE ORANGE in the cake! Peel and all!
I have made this cake in the "traditional way" many times - with egg whites separated and whisk to stiff peaks before folded into the cake batter (all done without Thermocook or similar machine).
So this time, making it with Thermocook, and dumping all the eggs without whisking first is an interesting experiment. I want to know if there is a major difference in the result. 
Ingredients
CAKE
2 large oranges (Navel oranges are great, but any will do)

250g whole almonds

6 good-sized eggs

200g raw sugar (this makes a not-too-sweet cake. For sweeter results, use 250 g sugar.)

1 teaspoon baking powder

big handful of

wolfberries (goji berries)

 

some more wolfberries (goji berries)

 

for garnishing, softened in 2 tablespoon of warm water
ICING
4 tablespoon icing sugar
half teaspoon lemon juice
half teaspoon strong Jasmine Green tea brewed tea and cooled
Instructions
Wash the oranges well. With skin on, put the whole oranges in a pot and put in enough water to cover the oranges. Bring to a boil and simmer for about 45 minutes or until soft enough you can put a fork in with no effort. 

When oranges are soft and cooked, remove from water and cut into quarters to cool. (remove any seeds)

Preheat oven to 190°C / 375°F.

Grind whole almonds for 10 seconds/speed 8 (super noisy!).

Put the oranges into roughly cut almond and grind for another 

for 2

0 seconds/speed 8 to a smooth paste

.

Add sugar and baking powder and mix 5 seconds/speed 4.

Add eggs and mix 20 seconds/speed 4.

Toss in wolfberries and mix.

Pour batter into

lightly oiled

 cake tins to about 5cm deep. The cake won't rise much.

Bake at 190°C / 375°F for about 30-45 minutes, depending on how big your pans are. (test with toothpick, if pierced into cake and toothpick comes out clean, your cake is done)

Cool completely in the pan.

To make icing, mix icing sugar, lemon juice and jasmine green tea. Stir till well mixed, then drizzle onto cake. Serve with some softened wolfberries to garnish.
Verdict: 
Comparing to the whisked egg white version of this Orange Almond cake I made before, it is not as light by a negligible fraction. The cake is still really moist and rich in flavours. The batter is a tiny bit more runny but all in all this is fantastic cake that I will make again.
This recipe is adopted from http://www.superkitchenmachine.com/2009/1356/gluten-free-thermomix-almond-cake-recipe.html 
As a busy mom of 2 kids, owner of a 6 figure business, author and coach, I feel overwhelmed at times to prepare REAL FOOD for myself and the family. The introduction of the Thermocook into our home has relieved stress in preparing meals quickly, without sacrificing real food value.

Thermocook is a multi-function appliance that can chop, bake, steam and more, all with ease, making great food with less time in the kitchen. Find out more in 

www.froothieinternational.com. Collection 2019 Sale 70% Off Title for image
AUSTRALIA'S FINEST LOOSE LEAF TEAS
Explore Australia's largest selection of Premium Teas & All-Natural Organic Herbal Blends.