Advanced Origami
Posted by PETER - TEAS.COM.AU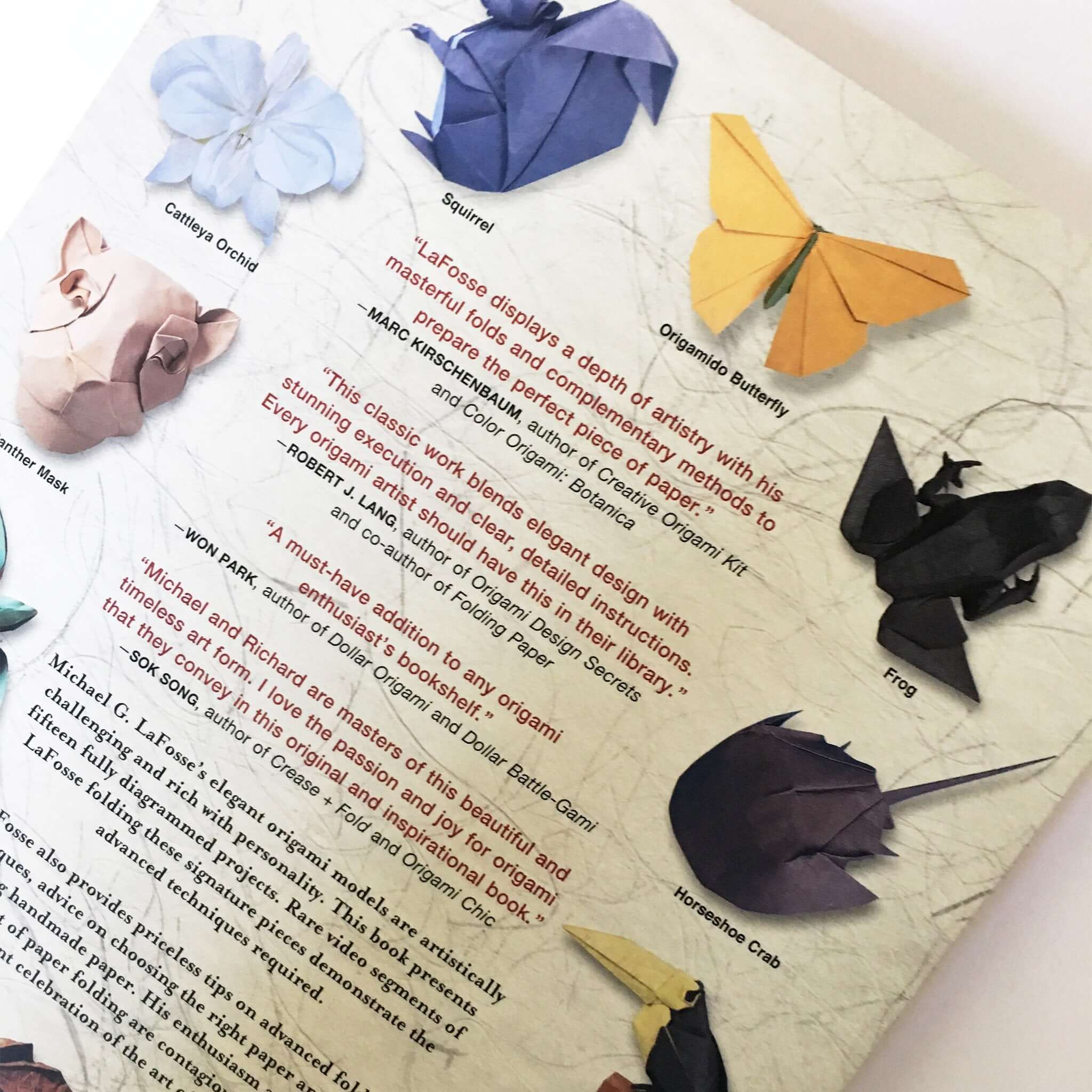 An artist's guide to folding techniques and paper, wth free DVD included.
- by Michael G. LaFosse and Richard L. Alexander
This book is dedicated to uplevel your folding skills in origami. The results are amazing art form that would make you rethink origami beyond little fold up napkin or paper crane.
The book starts with reviewing the origami basics - from selecting the right paper to colouring to folding accurately. It is a pleasant exploration to some of the finer techniques and understanding of the art and science of origami.
There are two kinds of origami - the ones that just fold and the ones that manipulate the paper with techniques such as wetting the paper. This book focuses on the latter, to achieve much more organic, natural curves.
This book presents a selection of challenging paper folding projects that celebrate the nature. You will find mantis, bats and hummingbirds, just to name a few. 
Origami is mathematics made into art. It is a mental challenge similar to doing puzzles - sometimes you need to go microscopic in your thinking, folding, unfolding and refolding to get the fold right. Other times, you need to sit back and inspect the bigger picture before working on the next step.
Because many advanced models are not easily shown in diagrams, a DVD is provided to demonstrate the folds, making it easier to follow to accomplish the desired form or shape.  
Origami is in many ways like tea. It doesn't need a lot of equipment, yet the studies of its art can go deep and its magic can be mesmerizing. 
In this way, tea and origami is a perfect pair. And if you are so over paper crane, try "Advanced Origami". It will keep you up all night, as it did for me, working on and working the folds again and again. Gosh, such a good brain tease - this Advanced Origami thing!
12 WEEKS TO CHRISTMAS -

 


YOUR TEA LIFESTYLE CHALLENGE 
For 12 weeks, we will review 1 book per week - the book reviewed is also the one we give away.


To enter to win the "book of the week":
2) add "
TEA LIFESTYLE CHALLENGE 11" anywhere in your email to share the review.


One friend emailed = one chance to win.
The more friends emailed, the more chances to win.
Enter as many "book of the week" draws as you like by sharing the review as mentioned above.


This draw is open to enter for 1 week from the review post date - from midnight 17 Dec to midnight 23 Dec 2018, Sydney (Australia time)


Have fun and read for your pleasure and leisure, with a delightful cup of tea!
@tuttlepublish #funread #origami #advancedorigami #paperfolding #origamianimal Collection 2019 Sale 70% Off Title for image
AUSTRALIA'S FINEST LOOSE LEAF TEAS
Explore Australia's largest selection of Premium Teas & All-Natural Organic Herbal Blends.