Green tea "lowers cholesterol"
Posted by DARENN BAAT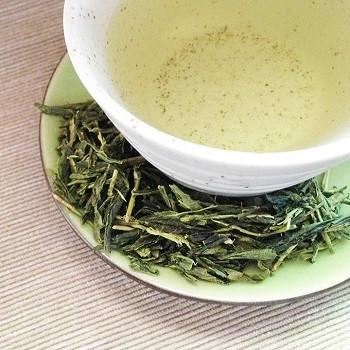 CSIRO studies have shown that antioxidants in green tea can lower cholesterol in rabbits by increasing the amount of a liver protein that works to clear cholesterol from the blood.
Although research overseas has already linked green tea consumption with lower cholesterol levels, the CSIRO results are the first to identify the mechanism responsible.
Senior Research Scientist Dr Paul Roach says green tea's high concentration of strong antioxidants called catechins increase the liver's LDL receptors, a major mechanism for cholesterol control.
In turn these receptors work to decrease LDL, the so-called "bad cholesterol" in the blood.
"The LDL receptor binds LDL and clears it from the bloodstream," says Dr Roach.
Catechins are a type of polyphenol, a class of antioxidant and the main constituent of green tea. Black tea contains much lower levels of catechins because they are oxidised during processing.
The results of the rabbit study confirm previous CSIRO findings that green tea catechins increased the amount of LDL receptors in cultured human liver cells. Both studies were undertaken by PhD student Christina Bursill of the University of Adelaide's Physiology Department.
Studies by other researchers suggest that humans could lower their cholesterol levels by up to 10 per cent if they habitually consumed between 5 to 10 cups of green tea daily.
"The next step is to test the effectiveness of our green tea extract in humans with high blood cholesterol" says Dr Roach.
Note: This study was conducted in 2000 and Dr Roach has since left CSIRO.
Contacts
Ms Wendy Parsons
Senior Communicator
CSIRO National Awareness
PO Box 225
Dickson ACT 2602
Australia
Phone:     +61 2 6276 6615
Fax:     +61 2 6276 6821
Mobile:     +61 0419 208194
Email:     Wendy.Parsons@nap.csiro.au
Ms Jan Stokes
Communication Officer
CSIRO Human Nutrition
PO Box 10041
Adelaide BC
SA 5000
Australia
Phone:     +61 8 8305 0607
Fax:     +61 8 8303 8899
Email:     Jan.Stokes@csiro.au
(By CSIRO, Media Release – Ref 2000/273 – Oct 18 , 2000) Collection 2019 Sale 70% Off Title for image
AUSTRALIA'S FINEST LOOSE LEAF TEAS
Explore Australia's largest selection of Premium Teas & All-Natural Organic Herbal Blends.