Take Heart! The Flavonoid Antioxidants in Tea May be Good for Cardiovascular Health
Posted by DARENN BAAT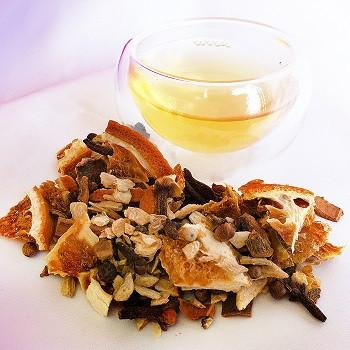 Dietetic Association's (ADA) annual meeting revealed that tea provides more flavonoid antioxidants than any other food or beverage in the U.S. diet. Other studies presented at the conference indicated that tea flavonoid antioxidants might provide a myriad of health benefits, including reduced risk for heart disease, control of metabolic syndrome and blood glucose regulation as well as emerging neuroprotective effects.
"Several studies have found that drinking tea may be good for the heart due to power of flavonoid antioxidants – the antioxidants found in tea," said Douglas Balentine, Ph.D., Director Nutrition Sciences North America, who presented at the ADA Food and Nutrition Conference & Expo about the role of dietary flavonoids in health. "For most Americans, drinking a cup of tea a day – hot or cold, black or green – will nearly double their current intake of flavonoid antioxidants."
In a presentation titled "Potential Health Benefits of Dietary Flavonoids" Balentine presented the latest findings about tea consumption and human health. Here are highlights from the presentation:
Tea Contributes More Than 85 Percent of Flavonoids in U.S. Diet
Antioxidants are known to help protect the body from the damaging effects of free radicals. Damage caused by free radicals contributes to aging and cardiovascular disease. Flavonoids are a type of antioxidant that are known to be biologically active and are found primarily in plant-based foods and beverages, including fruits and vegetables, chocolate, red wine and regular tea. Tea, the primary source of flavonoid antioxidants in the U.S. diet,contains approximately 125 mg flavonoids per cup (225ml).
Populations with higher intakes of dietary flavonoids have a reduced risk of developing cardiovascular disease. Clinical and mechanistic studies have demonstrated that dietary flavonoids, especially the catechin class, may help improve cardiovascular health by improving endothelial function, reducing inflammation in the vascular endothelium, and by reducing platelet activity. A recent analysis of the Nurses Health Cohort found that tea drinkers have a lower risk of developing type 2 diabetes. Emerging evidence suggests that flavonoids may also play a role in maintaining blood sugar levels and improves insulin sensitivity.
Using data from the national nutrition monitoring surveys (CFSIII) and the USDA Database describing the flavonoid content of foods, a research team from Exponent, a scientific research firm, found that the average flavonoid intake of U.S. consumers is 134.0 mg/day. Beverages were found to be the major contributors of dietary flavonoids in this study, with an average of 125.0 mg/day. Tea was found to provide 117mg/day of dietary flavonoids or 87 percent of the dietary flavonoids in the U.S. diet. The data presented by Exponent adds to similar data presented earlier this year from Michigan State University researchers, who also found tea to be the leading source of flavonoid antioxidants in the U.S. diet.
Green and Black Tea are Both Metabolically Active New research conducted at the Unilever Food Research Centre in Vlaardingen, The Netherlands and the University of Nottingham in Nottingham, U.K. used nutritional metabonomics to determine whether green and black teas are metabolically equal. The study included 14 healthy males who were given a daily dose of equal amounts of green tea solids, black tea solids or 360 mg caffeine (control) in a randomized crossover design study. Metabonomics is a new research technique that uses complex modeling to assess metabolic effects of dietary interventions in the body. The study found that black and green tea resulted in a comparable increase in the urinary excretion of flavonoid metabolites.
"These results indicate that similar amounts of flavonoids from both green and black tea are taken up by the body and are metabolized in a similar way," explained Balentine. "This means that both black and green tea can contribute dietary flavonoids to the body." However, the metabonomics study suggests that green tea was more effective than black tea in inducing metabolites associated with energy metabolism.
Flavonoids in Green Tea May Help Prevent Alzheimer's
Recent research reported in the September issue of The Journal of Neuroscience found that green tea catechin EGCG, was capable of reducing biomarkers linked to Alzheimer's disease in animal models. Alzheimer's disease is one of several neurodegenerative diseases that is thought to be linked to free radicals and ensuing inflammation and impaired blood flow to the brain and surrounding tissues. Research shows that oxidative stress from the daily effects of living, normal metabolism, exercise and environmental pollutants and toxins such as sunlight and carbon monoxide result in the production of free radicals. Other Collection 2019 Sale 70% Off Title for image
AUSTRALIA'S FINEST LOOSE LEAF TEAS
Explore Australia's largest selection of Premium Teas & All-Natural Organic Herbal Blends.