Green tea
Posted by BEV A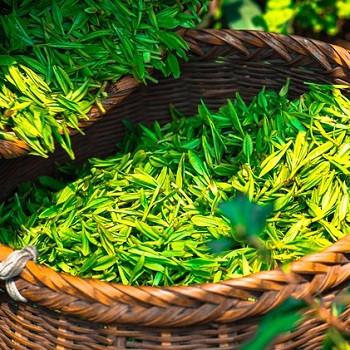 Archeological evidence suggests that tea leaves steeped in boiling water were consumed as many as 500,000 years ago. Botanical evidence indicates that India and China were among the first countries to cultivate tea. Today, hundreds of millions of people drink tea around the world, and studies are now suggesting that one variety of tea in particular – green tea (Camellia sinensis) – has many health benefits.
There are three main varieties of tea – green, black, and oolong. The difference between the teas is in their processing. Green tea is made from unfermented leaves and is reputed to contain the highest concentration of polyphenols, chemicals that act as powerful antioxidants. Antioxidants are substances that scavenge free radicals – damaging compounds in the body that alter cell membranes, tamper with DNA (genetic material), and even cause cell death. Free radicals occur naturally in the body, but environmental toxins (including ultraviolet light, radiation, cigarette smoke, and air pollution) can also increase the number of these damaging particles. Free radicals are believed to contribute to the aging process as well as the development of a number of health problems including cancer and heart disease. Antioxidants such as polyphenols in green tea can neutralize free radicals and may reduce or even help prevent some of the damage they cause.
Green tea has been consumed throughout the ages in India, China, Japan, and Thailand. In traditional Chinese and Indian medicine, green tea has been used as a stimulant, diuretic (to promote the excretion of urine), astringent (to control bleeding and help heal wounds), and to improve heart health. Other traditional uses of green tea include treating flatulence, regulating body temperature and blood sugar, promoting digestion, and improving mental processes.
Green tea has been extensively studied in people, animals, and laboratory experiments. Results from these studies suggest that green tea may be useful for the following health conditions:
Atherosclerosis
Population-based studies indicate that the antioxidant properties of green tea may help prevent atherosclerosis, particularly coronary artery disease. (Population-based studies refers to studies that follow large groups of people over time and/or studies that are comparing groups of people living in different cultures or with different dietary habits, etc.)
High cholesterol
Green tea has demonstrated an ability to lower total cholesterol and raise HDL ("good") cholesterol in both animals and people. One population-based study found that men who drink green tea are more likely to have lower total cholesterol thank those who do not drink green tea. Results from one animal study suggest that polyphenols in green tea may block the intestinal absorption of cholesterol and promote its excretion from the body.
Cancer
The cancer-protective effects of green tea have been reported in several population-based studies. For example, cancer rates tend to be low in countries such as Japan where green tea is regularly consumed. However, it is not possible to determine from these population-based studies whether green tea actually prevents cancer in people. Emerging animal and clinical studies are beginning to suggest that substances in green tea known as polyphenols may play an important role in the prevention of cancer. These substances act as powerful antioxidants. Researchers also believe that polyphenols help kill cancerous cells and stope its progression.
Bladder cancer
Only a few studies have examined the relationship between bladder cancer and green tea consumption. In one study that compared people with and without bladder cancer, researchers found that women who drank black tea and powdered green tea were less likely to develop bladder cancer. A follow-up study by the same group of researchers revealed that bladder cancer patients (particularly men) who drank green tea had a substantially better 5-year survival rate than those who did not.
Breast cancer
Studies in animals and test tubes suggest that polyphenols in green tea inhibit the growth of breast cancer cells. In one study of 472 women with various stages of breast cancer, researchers found that women who consumed the most green tea experienced the least spread of cancer (particularly premenopausal women with early stages of breast cancer). They also found that women with early stages of the disease who drank at least 5 cups of tea every day before being diagnosed with cancer were less likely to suffer recurrences of the disease after completion of treatment. However, women with late stages of breast cancer experienced little or no improvement from drinking green tea.
These Green Tea health benefits can be yours with a click of your mouse. Visit Teas.com.au now! Collection 2019 Sale 70% Off Title for image
AUSTRALIA'S FINEST LOOSE LEAF TEAS
Explore Australia's largest selection of Premium Teas & All-Natural Organic Herbal Blends.