Tales from the Tearoom 14
Posted by BEV A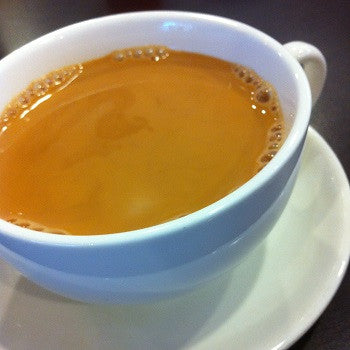 Welcome to another sunny day in Sydney and then some. It's a beautiful day Sydney: The sky is blue and the grass is green. I am out on my balcony, glorious balcony, and playing dominoes with my kids. The kids are playing for treats and I am playing for fun and I am getting pummeled six to nothing! This is going to take a serious cup of tea to fix.
Oh the agony! This is going to take some serious Hong Kong Lai Cha to fix. Oh the humiliation! but at least my kids are enjoying themselves and I am proud to see them using their brains and working out strategy after strategy.
Hong Kong Lai Cha is essentially strong black milk tea. But rather than using standard milk it has to be evaporated milk. And if it is made well, the colour of it with the evaporated milk should look sort of coppery. Some of the best Hong Kong Lai Cha an be found in Eastwood. There is one lady there, who makes it the best in my opinion and whenever I enter her restaurant for fusion-style dinner I can smell it in the air: The aroma, so fresh and florally. It makes me want to forget the overcrowdedness of Hong Kong and live there.
Nowadays when I drink milk tea I actually prefer Hong Kong Lai Cha over English Breakfast. So that's how I serve my black tea with milk now: My kitchen pantry is well stocked with evaporated milk, which can find near the Long Life Milk section of the supermarket. And yes, the evaporated milk light variety is just as good.
If you are looking for organic green tea Australia. Just visit Teas.com.au Collection 2019 Sale 70% Off Title for image
AUSTRALIA'S FINEST LOOSE LEAF TEAS
Explore Australia's largest selection of Premium Teas & All-Natural Organic Herbal Blends.