Chinese Flower Tea
Posted by LORNA - TEAS.COM.AU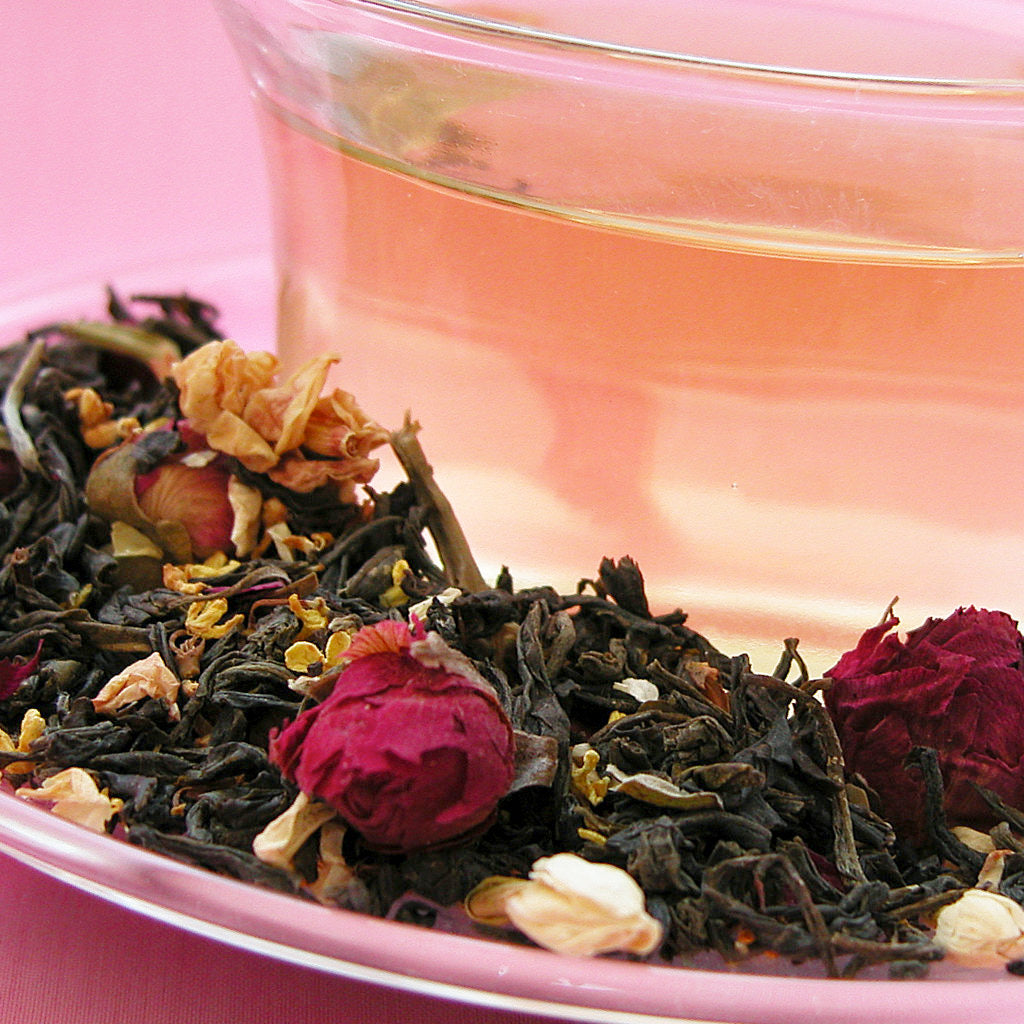 Flowers are more than meet the eyes, or the nose! 

In fact, some flowers are very drinkable.
Flower tea almost seems to possess some sort of magical power. It is fragrant and soothing. In this video, you will find 5 very drinkable Chinese flowers.
In the above video: Flowers, yes, drinkable! Not all of them of course. Today, I want to talk to you about 5 Chinese flowers that are very drinkable.
1. Chrysanthemum
The first one, and it's my favourite, is the Chrysanthemum.
Chrysanthemum, some people say that it tastes like Chamomile but to me, it actually tastes kind of different.
I like Chrysanthemum but Chamomile, not so much. In Hong Kong, where I came from, they drink it a lot. Especially in summer because it is great for reducing your internal heat and more especially if you eat a lot of takeaway food or any of those sorts of thing.
You can have it iced as well.
Here is a good tip for you, if you've got little kids and you're going to Yum Cha and not really wanting to give them something with caffeine like Jasmine tea, besides water and soda, have them try the Chrysanthemum.
Most Chinese restaurants do actually carry Chrysanthemum and you have to ask them that you want something different like the Chrysanthemum; otherwise, they are just going to serve Jasmine green tea by default in Australia. Chrysanthemum is good for the throat as well.
2. Osmanthus
The second one, which is also good for the throat, is Osmanthus.
Osmanthus looks a little bit like elderflowers but the smell is wonderful, it's fragrant but not overwhelming, and it's got that apricoty kind of scent to it and it's really lovely to drink.
And it is used in making desserts for the Imperial Court back in the good old days.
It is certainly a lovely flower to try and you don't need a lot, just a little pinch of it and it will be so fragrant. It's amazing! It's not overwhelming, it's really cool.
3. Ginseng Flowers
The third one is the Ginseng flowers.
Ginseng flowers are quite similar to ginseng in terms of properties but it is softer and we're talking about the Chinese pine nuts ginseng.
If you're after something just to wake up your senses but not as potent as the ginseng roots, then this is a nice little option for you.
In fact, some of our customers have experimented, one of them actually put ginseng flower with earl grey and she said that it really helps her especially if she's under the weather and she just needs something to perk her up a bit and chase off the sniffles.
The fourth one is the Jasmine buds.
Jasmine flowers are really interesting, in a sense that it does not taste like Jasmine green tea.
Jasmine green tea has got a nice, soft, floral taste and smell to it versus the Jasmine flower itself which sort of taste a tiny bit of oily, very light taste.
Some people love it and some people just kind of find it a bit peculiar, usually because a lot of us have been conditioned to think about Jasmine green tea. In fact, they do taste different.
Jasmine buds are known to be great aphrodisiacs, but I don't know, I have not tried it. Maybe if you try it, you let me know.
The last but not the least is the Hibiscus.
Hibiscus is a fantastic kid's drink because it's got that screaming red colour to it and it's all natural.
The flower is actually what you're drinking and it's not you're the domestic variety of Hibiscus. We also found out that a lot of people from all around the world are actually drinking it.
They call it different things like Rosella and karkadé, so it really nice for you to drink.
It has a tartish taste, bright red colour, great hot or chilled and maybe with a little bit of honey (if you're giving it to kids).
There you have it, 5 lovely flowers to try out. We have the:
1. Chrysanthemum
2. Osmanthus
3. Ginseng Flowers
4. Jasmine buds
5. Hibiscus
We are too familiar with the exhaustion we feel after a long day of work. Sore shoulders, throat's dry and what, still need to organise dinner? Aw...can I have a magic wand to make everything better?

Try out some of these flower tea to regain your power - available in selected Tea Explorer Boxes and For Her tea collections. Collection 2019 Sale 70% Off Title for image
AUSTRALIA'S FINEST LOOSE LEAF TEAS
Explore Australia's largest selection of Premium Teas & All-Natural Organic Herbal Blends.