Earl Grey Creme Brulee Recipe
Posted by SHAUN PILAPIL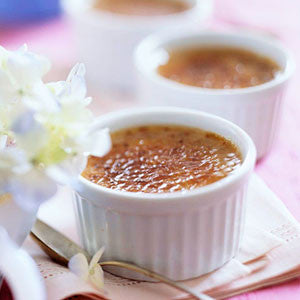 The classic Creme Brulee is one of the most popular desserts in Australia.
Try this refreshing change with a touch of bergamot from the Earl Grey tea.
INGREDIENTS (serves 2-4)
■ 1 cup Heavy Cream
■ 2 tbsp loose leaf Earl Grey tea leaves
■ 3 Egg yolks
■ 3 tbsp Brown sugar
■ Pinch of salt
■ 2 tbsp Brown sugar for crystal topping
EQUIPMENT
mixer
oven mixing bowl
sieve spatula
ramkins or oven-safe bowls
saucepan
---
DIRECTIONS
1. Place cream in saucepan over low heat until it starts to bubble. Remove from heat.
2. Mix Earl Grey tea well into the cream, let the mixture sit for 5-10 minutes.
3. Place egg yolks in a mixing bowl
4. Add in sugar.
5. Mix well until smooth, creamy and free of lumps.
6. Using sieve, temper the eggs by adding in about half of the tea-infused cream and mix well.
7. Add in the rest of the cream.
8. Make sure the the tea leaves are completely strained out, then mix everything well.
9. Put the mixture into the ramkins or bowls then sprinkle a little salt on top.
10. Place the bowls into a baking pan. Fill with boiling water up to halfway the depth of the cream in the bowls.
11. Bake in a 170 degrees Celsius preheated oven for 40-45 minutes. One way to be sure it is done is to see that the middle jiggles but not crack.
12. Sprinkle 1tbsp sugar on top and let it cool for at least one hour in room temperature and two hours in the chiller.
13.Use a kitchen torch to melt the sugar down to a crystallised topping.
14. Enjoy with a cup of Earl Grey tea or Jasmine Green tea.
---
Buy your tea from 150+ choices of loose leaf tea here –>  Teas.com.au
Click on the link –> food with tea recipes, if you want more exploration of tea on food. Collection 2019 Sale 70% Off Title for image
AUSTRALIA'S FINEST LOOSE LEAF TEAS
Explore Australia's largest selection of Premium Teas & All-Natural Organic Herbal Blends.