Chinese Puerh Tea Eggs Recipe
Posted by SHAUN PILAPIL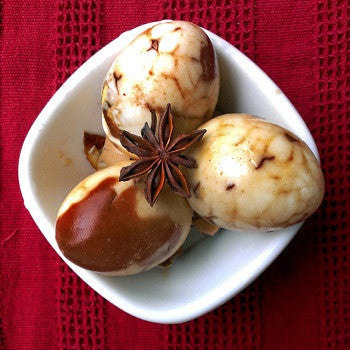 Puerh tea eggs is one of the traditional tea cuisine delicacies from China.
The Puerh tea cuts down the heaviness in hard boiled eggs with wonderful fragrance.
In the old days when life was less rushed, these eggs would just sit in the tea broth for the whole day, simmering gently and absorbing all the natural flavour of all the spices and tea.
INGREDIENTS (Yield 3 eggs)
3 eggs
1 1/2 Tbsp light soy sauce
1 tsp dark soy sauce
1 cinnamon stick
1 star anise
1/2 tsp salt
1 1/2 tsp sugar
1 1/2 Tbsp Mandarin Puerh / Puerh
DIRECTIONS
1. In a pot, submerge eggs under 1 inch water.
2. Place this pot under high heat until water starts to boil.
3. Turn heat to low and let the eggs simmer for a minute before turning the heat off.
4. Cover with lid and set aside for 10 minutes.
5. Take eggs out of the hot water and transfer to a bowl with very cold water to cool.
6. When the eggs are cool to touch, crack the shells gently with the back of the spoon. Don't peel.
7. In a new empty pot, place 1/2 liter water, soy sauces, cinnamon, anise, salt, sugar and Mandarin Puerh tea.
8. Bring this to a boil over medium heat.
9. Drop eggs in the tea broth slowly. Simmer for 10 minutes over low medium heat and another 5 minutes covered over low heat.
10. Take out eggs from the tea broth.
11. Strain the tea broth and place the eggs back in the tea broth for another 4 hours.
12. Remove shell. And you've got ready to eat hard boil eggs. Collection 2019 Sale 70% Off Title for image
AUSTRALIA'S FINEST LOOSE LEAF TEAS
Explore Australia's largest selection of Premium Teas & All-Natural Organic Herbal Blends.