6 Chocolate Teas for Chocoholic Tea Lovers
Posted by DARENN BAAT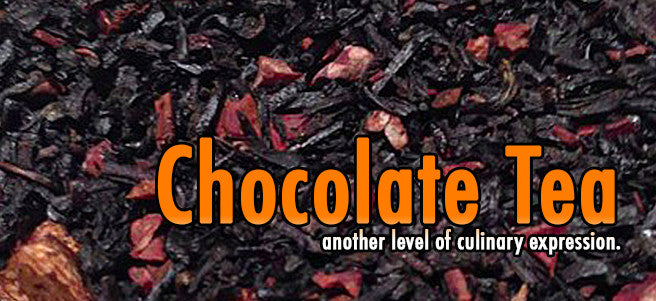 Chocolate is a pleasurable indulgence that is actually existence among tea blends!
This great way to enjoy authentic tea from loose leaf tea and real chocolate in the form of cacao nibs is one of the most beautiful infusions in food.  To boot, this also has enough caffeine for those looking for a wake-me-upper.
This amazing flavour, a very good chocolate flavour needed to create this sensory delight in tea already exists. Cacao nibs give off a natural dark chocolate flavour that is not like commercial ground cocoa.
If you are a true Chocoholic, this is heaven. And appropriately the first chocolate tea in this feature is named:
Rated best chocolate tea in Australia! Yes this is the Chocolate tea you've been waiting for.
Pampering and spicy, this Choc Spice black tea is going to get you fire up this winter, inside and out.
Lapacho is regarded as the "heal all" herbs by some ancient South American tribes.
This chocolate flavoured lapacho makes it all the more fun to maintain your wellbeing.
A tasty indulgent mix of rose natural dark chocolate flavour and star anise with black tea.
Daydream is a great cup to relax with and drift away… popular.
This tangy blend also features cacao pieces make this choc-berry blend super tasty – chill it for a great summer drink.
Special ingredient in this mix is the Acai (ah-sign-ee) which comes from the Amazonian Basin. Grown substainably, Acai is a great food for energy, with low GI and caffeine free.
Tahiti is the drinkable Lamington! The ultimate and timeless pair Coconut and Chocolate gives you the aromatic delight that is hard to resist. The Tahiti black tea blend will take you to tropical escape – best enjoyed sitting in your favourite couch!
---
These chocolate teas are all available in the "Tea for Chocoholics" portion of Teas.com.au
http://teas.com.au/flavour-mood/tea-by-flavour/chocolate-tea-herbal-range.html Collection 2019 Sale 70% Off Title for image
AUSTRALIA'S FINEST LOOSE LEAF TEAS
Explore Australia's largest selection of Premium Teas & All-Natural Organic Herbal Blends.